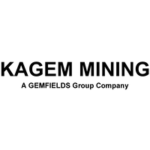 Kagem Mining Limited
Kagem Mining Limited, based in Lufwanyama, is the world's single largest emerald producer. It covers an area of approximately 41 square kilometers and is in the central part of the Ndola Rural Emerald Restricted Area ("NRERA"), in the Copperbelt Province of Zambia. Kagem Mining prides itself on industry-leading health and safety standards, innovative approaches to engineering and cutting-edge management of unique geology.
Since 2008, Kagem is 75% owned by Gemfields, a world-leading supplier of responsibly sourced colored gemstones, in a model partnership with the Zambian government, through the Industrial Development Center (IDC). Kagem aims to emulate the values of Gemfields and operate in a way that contributes positively to the national economy, while taking a leading role in modernizing the colored gemstone sector and building sustainable livelihoods for the communities around the mine. Kagem believes that colored gemstones should be mined and marketed by championing three key values – legitimacy, transparency and integrity.
Position: Superintendent Civil Works – Engineering (x1)
Reports to: Civil Engineer
Job Purpose: To carry out civil works such as construction, plumbing, carpentry and joinery at the mine site.
Principle Accountabilities
To lead a team of competent craftsmen in various fields related to civil works engineering in aid of production, keeping surroundings and buildings in usable condition.
Enforce the company's health and Safety Policy. Provide assistance to the Civil Engineer to ensure all the statutory requirements are strictly followed as per standard norms at Engineering department.
Supervises painting and repainting of company buildings, offices etc. to prevent rusting and ensure longer lifespan.
Work with civil contractors in civil works related jobs at the mine site.
Utilise manpower in an effective manner by providing targets and allocating duties to subordinates.
Achieving excellence of service and reducing repair time.
Carry out routine, scheduled and extra ordinary maintenance works on the civil structures and office buildings.
Ensure discipline among the workforce and compliance with laid down procedures when executing their duties.
Train and help workers to acquire modern skills in the field of civil engineering.
Periodically check completion status of all works assigned to subordinates.
Qualifications & Experience
Full Grade 12 Certificate.
Minimum Craft Certificate / Diploma in Civil Engineering or Building with min 5 years' experience.
Experience in Supervisory Management.
Paid up member of EIZ.
Excellent analytical and evaluation skills.
Good command of both oral and written communication.
Possession of good leadership skills.
Ability to work with minimum supervision.
Computer literate.
The company provides single status accommodation at the mine site.
Send your applications (Covering Letter and CV only) to The Head-Human Resources by mail to; [email protected] Certificates will only be required at the interview stage.
Only short-listed candidates will be contacted.