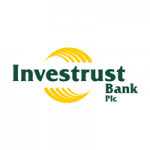 Investrust Bank Plc (IBP) is looking for suitably qualified, vibrant and self-motivated individuals to fill the positions that have fallen vacant as below:
RETAIL BANKING
Position Title: Stores Clerk
Location: Head Office
Department: Finance
Reporting to: Management Accountant
Purpose of the Job
To assist in delivering the highest levels of material service and promoting stock compliance in line with the Bank's regulation and procedures.
Key Responsibilities
Ensures timely issuance of items required to all end users;
Assists in conducting quarterly and annual stock taking;
Keeps stores items in the store room in readiness for issuing to the users;
Keeps stock in a clean and tidy conducive working environment;
Updates stock records promptly;
Issues the items to the user departments against approved stores requisitions;
Receives new items from suppliers verifies them against delivery notes and purchase orders before stacking them in designated places and Reports discrepancies to user departments for action;
Maintains stock records reflecting item description, issues made, receipts and stock balance so as to enable management to monitor stock movements;
Advises on stock levels and on available storage capacity to ensure economic storage and economic availability of items;
Reconciles physical stocks with record inventory so as to harmonise the stock position.
Qualifications and Experience
Grade 12 Certificate with 5 'O' levels with credit or better in Mathematics and English
Diploma in Stores/Records Management
Not less than (1) year in a stores/supply position of a reputable institution.
Applications, supporting documentation and CVs should be emailed to: [email protected] not later than Monday 15th February, 2021.