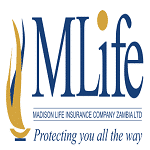 Madison Life Insurance Company Limited
Madison Life Insurance Company Limited invites applications from suitably qualified and experienced individuals to fill in the position of Software Engineer to be based at Head Office, Lusaka. The job holder will be reporting to the Head of ICT.
KEY QUALIFICATIONS, QUALITIES & COMPETENCIES
Full grade twelve certificate with at least merit in Mathematics & English
Bachelor of Science Degree in Computer Science, Software Engineering, Information Management Systems, or a related discipline.
3 to 5 years general software development and implementation
2 years working with Oracle PL/SQL, JAVA and Strong PL/SQL Programming skills. Oracle Database PL/SQL Developer Certification is an added advantage
Experience in writing Database Packages, Stored Procedures, Functions, Triggers, Views, and Objects/Collections in PL/SQL
Experience in multi-platforms such as Apex, PHP, VB.Net and JavaScript.
Strong knowledge in Web Applications Design, Web Application Development and Sound documentation
Performance tuning. Databases: ORACLE 9i, 10g, 11g, 12c, MySQL, MS SQL Server
Ability to translate low level designs into programs/applications.
Familiarity with Functional Hierarchy Diagrams, Entity Relationship models and server model design.
Ability to apply estimation techniques to software development efforts
Ability to identify and manage risk
Exposure to SaaS Cloud Product Development and Micro Services Architectures
Ability to effectively communicate your work with both technical and non-technical peers.
Preferable working experience in financial services company (Life Insurance Company)
KEY RESPONSIBILITIES
Creating new applications or APIs to enhance existing applications
Enhancing applications by identifying opportunities for improvement, researching solutions, making recommendations, designing, and implementing solutions
Troubleshoot, debug and upgrade existing systems
Database and application tuning
Managing and maintaining user/system documentation
Conducting end user training, support, and feedback evaluation
Assist others in the use of software engineering tools to support process improvement
Engaging with external service providers
If you think that you meet the above requirements, you are invited to submit your application letter and CV electronically to the Assistant Human Resource Manager to [email protected] closing date is Friday 17th May, 2021.
* Please note that only shortlisted candidates will be acknowledged.
Find Zambia Jobs – The best Job board for jobs in Zambia