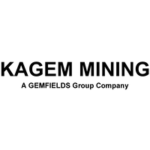 Kagem Mining Limited, based in Lufwanyama, is the world's single largest emerald producer. It covers an area of approximately 41 square kilometers and is in the central part of the Ndola Rural Emerald Restricted Area ("NRERA"), in the Copperbelt Province of Zambia. Kagem Mining prides itself on industry-leading health and safety standards, innovative approaches to engineering and cutting-edge management of unique geology.
Since 2008, Kagem is 75% owned by Gemfields, a world-leading supplier of responsibly sourced colored gemstones, in a model partnership with the Zambian government, through the Industrial Development Center (IDC). Kagem aims to emulate the values of Gemfields and operate in a way that contributes positively to the national economy, while taking a leading role in modernizing the colored gemstone sector and building sustainable livelihoods for the communities around the mine. Kagem believes that colored gemstones should be mined and marketed by championing three key values – legitimacy, transparency and integrity.
Position: Senior Supervisor – Geology (x1)
Reports to: Pit – Geologist
Job Purpose: To oversee the junior manpower and tools used in the geology/production operations.
Principle Accountabilities
Ensure subordinates are working as expected
Plan and develop work schedule of the subordinates.
Maintain good discipline and work efficiently and effectively as assigned.
Ensure use of approved protective clothing amongst all subordinates.
Perform duties as instructed/delegated by Pit Geologist.
Enforce security policy by ensuring that all subordinates oblige to all set security procedures and regulations.
Ensure that the work area is clean during and after the shift.
Ensure that tools and other items are stored systematically.
Ensure safe keeping Geology/production tools and personal protective equipment.
Qualifications & Experience
Grade 12 certificate.
Experience in Mining operations (preferably Geology operations) is an added advantage.
Certificate in supervisory skills is an added advantage.
Possession of good leadership skills.
Ability to work with minimum supervision.
The company provides single status accommodation at the mine site.
Send your applications (Covering Letter and CV only) to The Head-Human Resources by mail to; [email protected] Certificates will only be required at the interview stage.
Only short-listed candidates will be contacted.
Closing date: 26th March 2021
Kagem Mining Ltd is an equal opportunities employer and encourages all eligible applicants to apply without any consideration to sex, cultural consideration, disability or creed. We do not charge or ask for money from candidates applying for jobs during any stage of the recruitment process, if you are asked for money by anybody, please do not proceed and report such individuals to the police immediately.