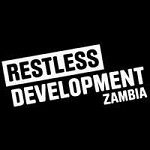 Website Restless Development Zambia
ABOUT RESTLESS DEVELOPMENT
We know young people have the power to solve the challenges we face in our world, but they are being ignored and overlooked. We are the agency that works with young people so they can lead in solving those challenges. Whether that means supporting communities to end child marriage or prevent HIV, we work with young people to change their lives and the lives of people in their communities.
Our programmes are genuinely life-changing, but can't do any of this without talented, creative individuals at every level of our organisation.
OUR APPROACH TO SAFEGUARDING
Restless Development considers the welfare and protection of children, young people and vulnerable adults to be an organisational imperative with primacy over the success of programmes or strategic objectives. We recognise that safeguarding is everyone's responsibility and we expect all of our staff, volunteers and partners to ensure we protect the communities in which we operate from harm and abide by our Safeguarding Policy.
ABOUT THE ROLE
Restless Development Zambia has since 2003, been equipping youth to voice their priorities; facilitating their access to decision makers for accountability; and supporting platforms for youth to demonstrate that they are effective change agents. We strengthen government, institutional and civil society partners' capacity to engage with youth. Our evidence-based policy engagement is unique in its approach, cutting across government, private sector and the NGO sector and this has set us apart as an innovative partner in development.
Restless Development seeks to recruit a dynamic, inspired and innovative Zambian to fill the role of Senior Programme Coordinator on the STRONG consortium Project- Supporting STRONG Adolescents. The Senior Programme Coordinator will be responsible for overall coordination and oversight of the project with an intent to improve resilience and health outcomes among vulnerable adolescent as well as the follow up, care and services targeting vulnerable adolescents, in particular girls towards an efficient case management system for vulnerable Adolescent, Girls and Young Women. The Senior Programme Coordinator will also lead on the close collaboration with the STRONG consortium.
ABOUT THE ROLE
Job title: Senior Programme Coordinator – Supporting STRONG Adolescents
Location: Kabwe-Zambia
Salary: K216,460 Basic Salary per Annum
Preferred start date: To be confirmed
Length of contract: 2 years
Reports to: Programme Manager
Direct reports: Adolescent Agents of Change
Expected travel: National travel will be required (approximately 40%)
KEY PRIORITIES
1. Partnership Management and Coordination
Collaborate with the consortium members to fulfil the objectives of the project
Establish and coordinates partnerships at district level for improved delivery
Lead on all capacity building activities for partners and Adolescents Change Agents
Support cultivation plans of resourcing for the Organization
2. Overseeing the delivery and Quality of the programmes
Manage all Programme development, priorities, and ensuring quality review of the work plan, resources and the implementation schedule
Coordinate the development of the project narrative reports including donor reports.
Ensure achievements of donor targets and commitments.
Tracking changes and evidence-based results against targets and indicators of the STRONG consortium Project.
Participate in the relevant progress meetings underpinning the Programme
3. People Management and Operations
Ensure that Restless Development's Global Safeguarding Policy is implemented rigorously at all levels of the Hub's operations in Zambia.
Line management of the AAC
Designing and leading training and other capacity-building initiatives for the AAC in your team and others
Ensure that your programme team adheres to organisational policies and practice
4. Other
You may occasionally be required to work on weekends and/or public holidays, for which time off in lieu will be granted
Other duties as required.
ABOUT YOU
We are looking for people with the right competencies and skills for the role, and who demonstrate the personal qualities consistent with our Values.
SKILLS AND EXPERIENCE
Essential
Effective Communication
Graduate-level Degree in relevant field of study, or equivalent work experience
Strong demonstrable experience in the support of development and programme management
Knowledgeable in Reproductive Health, HIV and Livelihood models
Desirable
Experience in Managing and developing partnerships
Experience in risk mitigation & management and incident response
Excellent communication and facilitation skills, including experience of presenting, public speaking and training delivery
Strong organizational skills and ability to remain calm under pressure
Fluent written and spoken English
Good IT skills with competence in Word, Excel and PowerPoint essential
Belief in the values of Restless Development and ability to uphold them personally
Restless Development is an Equal Opportunities employer and welcomes applications from all sectors of the community. Restless Development will ensure that no applicant or staff member receives less favourable treatment on the grounds of gender, sexual orientation, marital status, social status, caste, race, ethnic origin, religious belief, age, HIV status, disability, or any other factor that cannot be shown to be relevant to performance.
WHAT WE DO FOR YOU
Remuneration
We are proud to commit to a transparent global salary scale, ensuring a fair and comparable system of pay across all global locations. In addition to salary, we offer pension contributions of 3% for a Senior Coordinator.
Values and Culture
At Restless Development, we're proud that the strength and integrity of our Values has been recognised by staff, beneficiaries, donors and others who we work with. Beyond this, we have a culture of recognising and celebrating both our Values and our global achievements with monthly Values Champions and an annual Values Day.
Work-life Balance
It goes without saying that we work hard, at Restless Development. We also recognise the importance of helping staff to maintain a positive work-life balance by offering:
24 days annual leave (in addition to public holidays and with an extra day of annual leave given for each full year of service, up to a maximum of 28 days).
Birthday Leave
Access to flexible working.
Generous study leave, maternity, paternity or adoption leave, and other leave allowances.
Professional Development
Restless Development is proud to be an employer who recognises potential and invests in the development of its staff. We are committed to the professional development of our staff through:
Empowering opportunities to work on significant projects which stretch and inspire staff – allowing them to develop on-the-job.
Regular performance management.
Training and development opportunities, including supporting our staff to identify mentors both within and outside of the agency.
Quarterly Staff Workshops for all staff to give and receive agency updates, receive training, and socialise.
Travel and Medical Insurance
Specify where staff and their dependents are covered by national/private medical insurance schemes. When travelling abroad with work, all staff will be covered by Restless Development's travel insurance.
Relocation package
For staff who relocate to work with Restless Development, we offer a competitive relocation package. This will be discussed with relevant candidates and could include:
A lump-sum relocation allowance to support you in relocating to your new place of work.
Out of country supplements for the duration of your time working in your new place of work.
Medical insurance.
KEY DATES
Please send a completed application form to [email protected] by 15th April, 2021. Indicating Subject as "APPLICATION_YOUR NAME_ SENIOR PROGRAMME COORDINATOR-SUPPORTING STRONG ADOLESCENTS"
Please note that we do not accept CVs, resumes or covering letters.
Click Here to Download Application form
First round interviews are scheduled to take place by the 20th of April. 2021.
Only shortlisted applicants will be contacted
Young Women are encouraged to apply