Full Time
Applications have closed.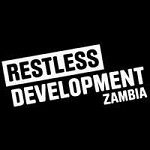 Restless Development
About Restless Development.
We know young people have the power to solve the challenges we face in our world, but they are being side-lined. We are the agency that works with young people so they can lead in solving those challenges. Whether that means supporting communities to end child marriage or prevent HIV, we work with young people to change their lives and the lives of people in their communities. Our programmes are genuinely life-changing, but we can't do any of this without talented, creative individuals at every level of our organisation.
About the Role.
Restless Development seeks to recruit a dynamic, inspired and innovative Zambian to fill the roles of Senior Programme Coordinator-Sexual Rights & Advocacy. The Senior Programme Coordinator-Sexual Rights & Advocacy will play a leading role in delivering the project and overall Restless Development's advocacy plans, including supporting youth participation in policy processes, organising our representation in key advocacy events and supporting and strengthening our networks. The Senior Programme Coordinator-Sexual Rights & Advocacy will also work with the Restless Development Zambia Leadership Team to champion internal cross-unit advocacy and influence work.
About You.
Essential and Desirable skills and experience
Fluent written and spoken English
Good IT skills with competence in Word, Excel and PowerPoint essential
Belief in the values of Restless Development and ability to uphold them personally
A strong personal commitment to the values, code of conduct and methods of Restless Development
Proven facilitation and training skills
A high level of motivation and ability to work independently as well as part of a team
Leadership skills
Team builder
Relationship building
Excellent interpersonal and communication skills (written and verbal), fluency in written and spoken English essential and excellent IT skills
Experience working Government Institutions (MOGE) and conversant with their systems and operations
A clear understanding of contemporary development issues particularly those related to economic opportunities for youth, sexual and reproductive health and rights.
Proven experience in people management and leading teams remotely
Proven experience overseeing programme delivery
Proven experience overseeing financial/budget management for a donor funded programme
Educational Background
Minimum:  Graduate-level Degree in relevant area, or equivalent work experience
How to Apply.
Please send a completed application to [email protected] by 5th June, 2022 indicating subject line as "APPLICATION_YOUR NAME_SENIOR PROGRAMME COORDINATOR_ SEXUAL RIGHTS & ADVOCACY" e.g. "APPLICATION_JANE DOE_SENIOR PROGRAMME COORDINATOR_ SEXUAL RIGHTS & ADVOCACY"