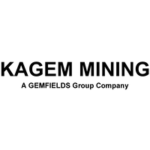 Kagem Mining Limited, based in Lufwanyama, is the world's single largest emerald producer. It covers an area of approximately 41 square kilometers and is in the central part of the Ndola Rural Emerald Restricted Area ("NRERA"), in the Copperbelt Province of Zambia. Kagem Mining prides itself on industry-leading health and safety standards, innovative approaches to engineering, and cutting-edge management of unique geology.
Since 2008, Kagem is 75% owned by Gemfields, a world-leading supplier of responsibly sourced colored gemstones, in a model partnership with the Zambian government, through the Industrial Development Center (IDC). Kagem aims to emulate the values of Gemfields and operate in a way that contributes positively to the national economy while taking a leading role in modernizing the colored gemstone sector and building sustainable livelihoods for the communities around the mine. Kagem believes that colored gemstones should be mined and marketed by championing three key values – legitimacy, transparency, and integrity.
SENIOR MANAGER SECURITY (1 POSITION)
Reports to: Head- Protection Services
Job Purpose: To ensure that criminal investigations are properly conducted, and the findings are expeditiously acted upon.
Principle Accountabilities
Conduct inspections of various mine points and supervise security staff deployed at these points to ensure that duties are carried out efficiently.
Frequently inspect arms and ammunition to determine their usage. Initiate investigations into loss or damage and immediately report to superiors for appropriate action.
Maintain discipline and safety to ensure that professional standards and efficiency are upheld.
Ensures that criminal investigations are properly conducted, and the findings are expeditiously acted upon.
Contribute to the formulation of security/policies/strategies and their implementation.
Supervises the training programmes for the security staff and ensures that training objectives are realized.
Keeps abreast of technological changes in security services through contacts with other security organizations, professional institutions and makes appropriate recommendations.
Ensure that security equipment and supplies are well maintained and available at all times.
Monitor the security infrastructure through frequent inspections and ensure continuous improvements.
Qualifications & Experience
Grade 12 certificate
Diploma/Degree in any Administration discipline/Graduate degree
Should have at least 5 years Military service or Paramilitary Police services
Minimum 10 years work experience in Security Operations Management with at least 5 years at senior management level
Good computer skills.
Send your applications (Covering Letter and CV only) to The Head-Human Resources by mail to; [email protected] Certificates will only be required at the interview stage.
Only short-listed candidates will be contacted.
Closing date: 26th May 2021
Kagem Mining Ltd is an equal opportunities employer and encourages all eligible applicants to apply without any consideration to sex, cultural consideration, disability, or creed. We do not charge or ask for money from candidates applying for jobs during any stage of the recruitment process, if you are asked for money by anybody, please do not proceed and report such individuals to the police immediately.