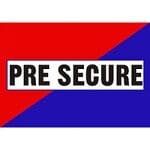 Website Pre-Secure Security
Job Title: Sales Representative
We are looking for a Sales Representative to join our team:
What's on offer:
Competitive salary
Uncapped commission
A chance to be a part of a dynamic, growing company.
What we're looking for:
Client focused individual with great interpersonal skills
Experience in technical sales.
Experience in the Security Industry
Drivers license
If you're interested inbox us your CV!
Find Zambia Jobs – The best job board for Jobs in Zambia