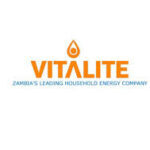 VITALITE Zambia Limited is a Zambian registered company founded in 2013. VITALITE was created to increase rural electrification and combat the poverty tax affecting low-income, energy-poor households across Zambia. Our stated mission is to make quality products and services accessible and affordable to all Zambian households. VITALITE Zambia prides itself at being the first to pioneer a fully integrated pay-as-you-go (PAYGO) service in Zambia and it aims to become the country's leading rural service and distribution company. According to an independent survey of our customers undertaken by 60 Decibels earlier in 2021, 88% of them find we've very much improved their quality of life.
Our Company Culture
VITALITE provides a vibrant and dynamic environment in which employees are encouraged to maximise their positive impact on themselves, their colleagues and on our customers.
We believe all members of staff should be treated fairly in order for them to be creative, innovative and have equal opportunities to progress.
We believe in creating a physically and emotionally safe environment as this is vital if our team members are to work with maximum confidence.
We believe all our team members can create significant positive impact for themselves, their colleagues and our customers through taking full accountability for what they do with us every day.
According to an independent employee opinion survey undertaken earlier in 2021 by Value 4 Women (a global Gender Advisory firm):
94% of team members feel respected by their colleagues
97% of team members like Vitalite's mission and purpose
86% of team members believe men and women at Vitalite have equal career opportunities
94% of team members believe issues of sexual harassment are taken seriously at Vitalite
89% of team members believe open and honest communications are encouraged
What does this role involve?
We are looking for a dynamic, customer-focused individual to join our team and take on the important task of running our HQ Reception and engaging with customers who visit our HQ Sales & Service Centre. The role holder will be expected to engage with a wide array of visitors including providing assistance to new and existing customers. This position will report to the Regional Sales Coordinator for Lusaka,.
Role holders will in this position be required to:
Manage the HQ front desk, answer incoming calls and in-person queries, re-direct calls as appropriate and take messages when needed
Greet, assist and/or direct visitors to the relevant/appropriate offices
Maintain a clean, tidy and secure reception area / shop
Undertake and report on product sales and registrations
Assist in the monthly procurement of stationery and the arrangement of certain regular meetings
As a minimum, all candidates are required to :
Have at least two years' experience in Sales or Marketing
Have a certificate in Sales or Marketing
Be familiar with Microsoft Word and Excel
Have good English speaking ability
Be able to speak well at least three local languages (including Bemba and Nyanja)
Be team players able to multitask and manage their time in a prioritized way
Have good knowledge of basic maths
Have Grade 12 certificate with good Mathematics and English results
Be comfortable working independently (i.e. without constant supervision)
Be highly organized
Kindly take note that:
Female candidates are encouraged to apply
If you think you are a great fit for this role please send us
An essay (no more than 500 words) explaining: "Why is the receptionist role so vital to the smooth running of any Headquarters?"
A copy of your latest Curriculum Vitae (CV)
2 references from previous employers
How to apply?
Please email [email protected], indicating the role you are applying for in the subject of the email or bring your application in person to our HR Team at 15 Lubwa Road, Rhodespark, Lusaka.
KINDLY NOTE THAT APPLICATIONS THAT DO NOT INCLUDE THE WRITTEN ESSAY WILL BE AUTOMATICALLY DISQUALIFIED. PLAGIARIZED WORK WILL NOT BE ACCEPTED.
Closing Date: Friday, 27th August, 2021