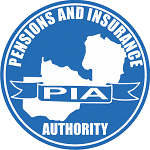 Pension and Insurance Authority
The Pensions and Insurance Authority (PIA) is the regulatory and supervisory authority for the pensions and Insurance Industry in Zambia as provided for in the Pensions Scheme Regulations Act No,28 of 1996 (as amended) and the Insurance Act No. 27 of 1997 (as amended). The Authority is empowered under section 5 of the Pensions Scheme Regulations Act No. 28 of 1996 (as amended) to formulate standards in the conduct of Insurance and Pensions business. The Authority supervises and regulates entities operating tn the pensions and insurance market. These include, among others, insurance companies, reinsurance companies, insurance intermediaries, pension schemes, fund managers and fund administrators.
In line with its strategy, the Authority hereby invites applications from suitably qualified and experienced candidates to fill the following position:
Position: Risk Officer
Overall responsibilities: 
Reporting to the Manager Audit and Risk – The Risk Officer will review, assess and advise on the implementation of the risk management processes.
Specific Duties: 
Coordinate the implementation of all aspects of the risk function, including implementation of processes, tools and systems to identify, assess, measure, manage, monitor and report risks.
Support the development of and facilitate processes to identify and evaluate business areas risks and control self-assessments.
Support the process for developing risk policies and procedures, risk limits and approval authorities.
Conduct compliance & risk assessments.
Support the Management of the corporate risk and control assessment reporting process (e.g including reporting to Senior Management and the Board).
Ensure the risk programs are effectively integrated into service delivery methodologies
Requirements: 
Full Grade 12 certificate with credit or better in Mathematics and English.
Degree in either Accountancy or Full professional accounting qualification such as ACCA/ClMA/ZlCA or related field.
3 years relevant experience in Audit and Risk
Interested candidates meeting the above qualifications should send their application letters, copies of certificates and Curriculum Vitae to the address below. The deadline is 26th April, 2021.
Human Resources and Administration Manager
Pension and Insurance Authority
Stand No 4618
Lubwa road, Rhodespark
P/Bag 30x
Ridgeway
Only hardcopies submitted to the address above will be accepted. Only shortlisted candidates will be contacted for interviews