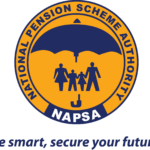 National Pension Scheme Authority
Be Smart, Secure Your Future
EMPLOYMENT OPPORTUNITIES
The National Pension Scheme Authority (NAPSA) wishes to fill the positions indicated below. Interested applicants who meet the required competences are encouraged to apply.
The successful candidates will be expected to have demonstrable competencies relevant to the respective job.
2.0 Risk Officer – Principal Risks NPS 04 (Permanent and Pensionable): Head Office
2.1 Main Purpose of Job
The Risk Officer – Principal Risks is responsible for setting and maintaining Risk Type Frameworks for assigned principal risks and ensuring that the core elements of risk management cycle are covered. Additionally, the Officer monitors implementation of the risk management framework, strategies and work plan. .
2.2 Key Responsibilities
(a) Develop Risk Type Frameworks for principal risks to cover:
Risk management principles
Approach to policies to control and mitigate the Principal Risks and their risk sub-types
Second line processes for oversight and challenge
Key roles and responsibilities covering first and second lines
Decision making authorities and delegation of authorities
Approach to risk data aggregation, risk reporting and data quality
Risk assessment methods to assess likelihood and materiality of impact
Risk sub-types and the risk identification process to review existing or new risk types that have changed in terms of relative importance.
(b) Monitor the management of risk to identify gaps in the internal controls in place, to ensure appropriate strategies are identified and implemented.
(c) Helps to conduct risk reviews within the Authority and in NAPSA controlled entities
(d) Train staff on risks and controls available for use, in order to build a culture that is responsive to risk management.
(e) Identify current and emerging risks to ensure appropriate strategies are developed in a timely manner to proactively manage risks.
(f) Provide input in the development of risk assessment and measurement systems to ensure the availability of quality tools that support effective management of risk.
(g) Conduct periodic review and update of policies, processes and procedures to ensure that they are responsive to the operating environment.
2.3 Qualifications and Experience  
Grade 12 Certificate with 5 'O' levels with credit or better including Mathematics and English.
Degree in Business Administration, Accounting, Banking, Economics, Mathematics or Statistics.
Certified Risk Analyst, Certified Enterprise Risk Manager, or equivalent Risk Management Certifications.
Not less than four (4) years' experience in risk management in a pension or financial industry.
TO APPLY
Your application letter should be accompanied by a CV and copies of relevant certificates and should also specify your contact address and telephone number(s).
Application letters should be addressed to:
Director Human Resources and Administration
National Pension Scheme Authority
Levy Business Park Church Road
P.O. Box 51275
LUSAKA
The closing date of receipt of applications is, Wednesday 28th April 2021.
PLEASE NOTE THAT:
ANY FORM OF LOBBYING WILL LEAD TO AUTOMATIC DISQUALIFICATION OF THE CANDIDATE AND ONLY APPLICANTS WHO MEET THE SPECIFICATIONS INDICATED ABOVE WILL BE ACKNOWLEDGED.
FEMALE CANDIDATES ARE ENCOURAGED TO APPLY.
BE SMART, SECURE YOUR FUTURE