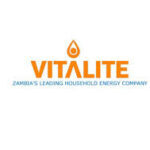 VITALITE Zambia Limited is a Zambian registered company founded in 2013. VITALITE was created to increase rural electrification and combat the poverty tax affecting low-income, energy-poor households across Zambia. Our stated mission is to make quality products and services accessible and affordable to all Zambian households. VITALITE Zambia prides itself at being the first to pioneer a fully integrated pay-as-you-go (PAYGO) service in Zambia and it aims to become the country's leading rural service and distribution company. According to an independent survey of our customers undertaken by 60 Decibels earlier in 2021, 88% of them find we've very much improved their quality of life.
Our Company Culture
VITALITE provides a vibrant and dynamic environment in which employees are encouraged to maximise their positive impact on themselves, their colleagues and on our customers.
We believe all members of staff should be treated fairly in order for them to be creative, innovative and have equal opportunities to progress.
We believe in creating a physically and emotionally safe environment as this is vital if our team members are to work with maximum confidence.
We believe all our team members can create significant positive impact for themselves, their colleagues and our customers through taking full accountability for what they do with us every day.
According to an independent employee opinion survey undertaken earlier in 2021 by Value 4 Women (a global Gender Advisory firm):
94% of team members feel respected by their colleagues
97% of team members like Vitalite's mission and purpose
86% of team members believe men and women at Vitalite have equal career opportunities
94% of team members believe issues of sexual harassment are taken seriously at Vitalite
89% of team members believe open and honest communications are encouraged
What does this role involve?
We are looking for a dynamic individual to join our team and take on the task of implementing all aspects of the risk function including new processes, tools and systems that will help us better identify, assess, measure, manage, monitor and report on our risks. The role holder will be expected to develop our response to market, credit and operational risks and also provide research and analytical support to the Risk Manager to whom the role holder will report
Role holder in this position will be required to:
Conduct compliance reviews and fraud investigations
Develop and maintain business continuity plan.
Develop our approach to operational risk management
Further improve our approach to credit risk management
As a minimum, all candidates are required to:
Have four to six years' experience in Micro – finance, Banking or Solar Energy Sector
Have a degree in Accountancy, Finance, Banking or Economics
Possess risk assessment and good reporting skills
Have financial acumen
Possess or be able to quickly develop industry / market knowledge
Have good team coordination skills
Be highly organized with great attention to detail
Be familiar with Microsoft Word, and Excel and Powerpoint with knowledge of SQL a plus
Note: Female Candidates Are Encouraged To Apply
How to apply?
If you think you are a great fit for this role, please send us
An essay (no more than 500 words) discussing: "Possible causes of customer default in the pay as you go business model and recommendations on solutions to reduce the default rate"
A copy of your latest Curriculum Vitae (CV)
2 traceable references from previous employers
Please email [email protected], indicating the role you are applying for in the subject of the email or bring your application in person to our HR Team at 15 Lubwa Road, Rhodespark, Lusaka.
APPLICATIONS THAT DO NOT INCLUDE THE WRITTEN ESSAY WILL AUTOMATICALLY BE DISQUALIFIED. PLAGIARIZED WORK WILL NOT BE ACCEPTED.
Closing Date: Friday , 17th September, 2021