Full Time
Applications have closed.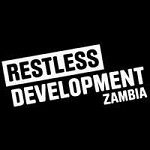 Restless Development Zambia
About Restless Development.
We know young people have the power to solve the challenges we face in our world, but they are being side-lined. We are the agency that works with young people so they can lead in solving those challenges. Whether that means supporting communities to end child marriage or prevent HIV, we work with young people to change their lives and the lives of people in their communities. Our programmes are genuinely life-changing, but we can't do any of this without talented, creative individuals at every level of our organisation.
About the Role.
Restless Development Zambia seeks to recruit a Zambia and Zimbabwe Resource Mobilisation Manager. The Resource Mobilisation Manager will be based in Lusaka, Zambia, with the responsibility for raising funding principally for Restless Development's work in Zambia and Zimbabwe with a remit. Scoping, developing new proposals, cultivating and submitting proposals to donors with a Southern Africa Regional Focus. The Resource Mobilisation Manager will be a key member of the Zambia and Zimbabwe Leadership. They will work together with the directors of both countries and also receive support from the Restless Development Global Resource Mobilisation Team.
We are looking for someone with a background in either trust & foundation, bilateral, multilateral or programme funding. If you are a dynamic, inspired and innovative individual with experience in institutional fundraising with an interest in shaping how Restless Development can restore power to young leaders through fundraising and partnerships in line with the ambitions in our new Resourcing Strategy  we encourage you to apply for this Role. The successful candidate will work with the Zambia and Zimbabwe Directors and their teams to help us achieve the ambitious target and objectives in our Resourcing Strategy .
About You.
Essential and Desirable skills and experience
Graduate-level degree in a relevant field of study, or equivalent work experience.
Experience in institutional fundraising (could be trust & foundation, bilateral, or multilateral funders)
A good understanding of the funding landscape in Southern Africa, particularly in Zambia and Zimbabwe
A demonstrable track record of developing winning concepts and proposals to institutional donors
Excellent relationship management skills with both funders and partners
An understanding of youth-led development, SRHR, livelihoods, advocacy, securing funding for grassroots civil society organisations, or other areas that Restless Development works on.
Excellent written and spoken communication skills in English
solid understanding of youth and community-led development.
Experience advocating for more equitable funding practises to facilitate youth-led development.
Prospecting and cultivating new institutional fundraising leads
A passion for ensuring young leaders have the resources they need to lead change in their communities in line with the ambitions in our new Global Resourcing Strategy.
Educational Background
Minimum:  Graduate-level degree in a relevant field of study, or equivalent work experience.
How to Apply.
Please send a completed application form to [email protected] by 23rd January, 2023  indicating subject line as "APPLICATION_YOUR NAME_RESOURCE  MOBILISATION MANAGER" e.g. APPLICATION_JANE DOE_RESOURCE MOBILISATION MANAGER " 
Please note that we do not accept CVs, resumes or covering letters.
Click Here to download  Application Form
Click Here to download  Job Description
If you encounter any Challenges when Downloading the application form and Job description send am email to [email protected] Requesting for the Job description and  the Application form.
First round interviews are scheduled to take place on a date to be advised.
Restless Development is an Equal Opportunities employer and seeks to recruit, retain and develop staff from all sectors of the community and will ensure that no applicant or staff member receives less favourable treatment on the grounds of gender, sexual orientation, marital status, social status, caste, race, ethnic origin, religious belief, age, HIV status, disability, or any other factor that cannot be shown to be relevant to performance.
The remit of this role focuses on enhancing the accountability of donor funds and to support the work of the Finance and Administration Unit and also to give general support to the other units within Restless Development Zambia.