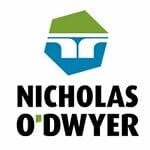 Nicholas O'Dwyer
Background:
Nicholas O'Dwyer is currently recruiting a Resident Engineer to join our team in Chingola Zambia. The project site is going live in Q4 of 2021 and we are beginning to mobilise staff to site. This is an excellent opportunity to gain direct exposure to an internationally funded key infrastructure water and wastewater project.
Project Tasks and Responsibilities:
Responsible for day to day construction supervision.
Implement site inspection procedures, including quality control monitoring and pressure testing, and procedures for correcting sub-standard works.
This includes random audits of contractors' completed works to confirm quality and quantity.
Review and approve contractors' construction method statements.
Responsible for reviewing minor changes requested by the contractor.
Review and approval of contractors' progress claims, including recommendations for withholding or other changes; report to Site Inspector / Engineer's Site Representative.
Responsible for maintaining records and overseeing contractors' as built drawings.
Key Criteria:
You will be degree qualified (Level 8 or higher) in Civil Engineering or other engineering disciplines such as Chemical, Mechanical, Electrical or Energy relevant to the role
You will have a minimum of 8 years post graduate experience
Experience in the management and monitoring of large water and sanitation projects.
Experience using FIDIC conditions of contract will be an advantage.
Must be fully conversant with Auto CAD.
Experience on MDB's financed projects in Sub Sahara Africa will be an advantage.
Experience with GIS software will be beneficial
You will be a chartered engineer or working towards achieving that accreditation
Have experience in the delivery of engineering services projects
Excellent time management skills, with the ability to prioritise work and manage many tasks concurrently.
Excellent communication skills and the ability to work as part of a multi-disciplinary and multi-cultural team.
You will have an agile and "Can Do" mindset
When you join Nicholas O'Dwyer, you become part of a company that is pioneering the future. We are recognised experts in the arena of designing, developing and managing infrastructure assets worldwide to meet society's needs.
Our teams around the world are involved in some of the most cutting-edge and innovative projects and programs of our time, addressing the big challenges of today and shaping the infrastructure environment for future generations to come.