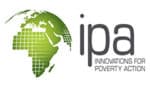 Innovations for Poverty Action (IPA)
Research Associate, Zambia & Zimbabwe Project
IPA is seeking a highly motivated and qualified individual with outstanding project management, data analysis, people management and communication skills as a Research Associate to support the implementation of a research project. As an ideal candidate, you not only have a rock-solid technical foundation in impact evaluation methodology, but you can also independently guide and direct the activities that happen both upstream and downstream of any rigorous, randomized evaluation. You enjoy leading high-performing teams that drive the production of the highest quality research for our clients and partners. You excel in solving problems using clear, strategic, and creative thinking. You have a strong social acumen, and are excited about the opportunity to broaden, deepen, and manage meaningful relationships with high-level clients and partners across the public and private sector. We are looking for a minimum commitment period of two years for this position with a possibility for a longer-term position for exceptional candidates.
Responsibilities 
The Research Associate will perform a variety of tasks related to managing day-to-day research activities, from planning to implementation, and monitoring quality. These include, but are not limited to:
Recruiting, training and supervising field-based teams
Managing 1-2 long term project staff
Refining and piloting survey questionnaires
Supervising and monitoring data collection to ensure high-quality of the data
Running data quality checks and fixing issues with data collected during data collection
Assisting in data cleaning and preliminary analysis and ensuring ready access to all data for researchers and/or supervisors
Documenting in detail all activities related to the project
Maintaining accurate records of interviews, safeguarding the confidentiality of subjects, as necessary
Preparing high-quality progress and results reports to Principle Investigator, research partners, and funding agencies, and sharing them timely
Providing timely updates and responses to partner organizations, and participating in meetings with key stakeholders
Managing project finances including budgeting, expense tracking and financial reporting
Ensuring that all team members follow necessary protocols and procedures
Handling day to day Principle Investigator and partner communications
Qualifications 
Education: Bachelor's degree in economics, public policy, or other quantitative social science disciplines (Master's degree preferred)
Quantitative Skills: Strong technical understanding of economics and econometrics required.
Demonstrated proficiency in Stata, and experience with data management, and data cleaning
A minimum of 1-year of work experience is required. Experience managing field staff in developing countries strongly preferred
Excellent management and organizational skills; ability to successfully completing assigned tasks and meeting deadlines required
Communication Skills: strong oral and written communication skills in the English language required
Application Instructions
Complete the J-PAL/IPA common application. After completing a brief registration, choose the Research job category, then select "Research Associate, Zambia & Zimbabwe Project".  Most applications for research positions require you to include at minimum two letters of recommendation, a statement of purpose (cover letter), CV, and transcripts.
Note that you are able to submit your application before your references complete their recommendation letters; however, you must include their contact information before submitting your application. Given the volume of applications received, only shortlisted candidates will be contacted for an interview