Short Term Contract
Applications have closed.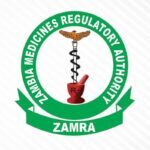 Zambia Medicines Regulatory Authority
ZAMRA wishes to invite applications from suitably qualified and experienced persons who are ambitious, innovative, energetic and performance-driven to be engaged on a short-term contract for a period of ten (10) months.
About Zambia Medicines Regulatory Authority
The Zambia Medicines Regulatory Authority (ZAMRA) was set up by the Medicines and Allied Substances Act (No. 3) of 2013 as a statutory body responsible for medicine and allied substances regulation in Zambia.
ZAMRA's vision is to be a leader and centre of excellence in regulation of medicines and allied substances. Its mission is to protect and enhance public and animal health through the regulation of medicines and allied substances.
Registration Officer-Human Medicines (x10)
PURPOSE OF THE JOB
To undertake registration of medicines in order to achieve compliance to set standards of quality, safety and efficacy.
KEY DUTIES AND RESPONSIBILITIES
Undertakes effectively, the registration of medicines for human use in order to authorize their use;
Undertakes effectively, the maintenance of the medicines information management system in order to facilitate storage, processing, retrieval and dissemination of information;
Undertakes effectively the screening of applications for registration of medicines for human in order to ascertain their completeness and validity; and
QUALIFICATION
Full Form V/Grade 12 School Certificate with five (5) 'O'Levels with credit or better, including Mathematics and English;
Bachelor of Pharmacy/Pharmaceutical Engineering/Pharmacology/Biochemistry/Biotechnology/Biomedical Science;
Must be a member of the Health Professions Council of Zambia (HPCZ) with valid practicing Certificate or any relevant Professional Body; and
MSc in Regulatory Affairs and Pharmaceutics will be an added advantage
EXPERIENCE
Basic experience:
Demonstrated experience in medicines regulatory processes.
Desirable experience:
Experience in pharmaceutical manufacturing industry.
Experience in maintenance of database.
COMPETENCIES/ATTRIBUTES
Interpersonal skills;
Integrity;
Confidentiality;
Must be of sober character,
Ability to write reports; and
Able to communicate in English.
Applicants who meet the above qualifications MUST:
Submit a signed application letter accompanied by a detailed Curriculum Vitae including three (3) traceable referees and day time telephone numbers and contact addresses.
All applications should reach the undersigned not later than 2nd December, 2022.
The Acting Director-General
Zambia Medicines Regulatory Authority
Plot No. 2350/M, Off Kenneth International Airport Road,
P.O. BOX 31890,
LUSAKA