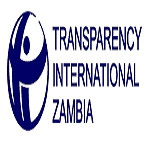 Transparency International Zambia
EMPLOYMENT OPPORTUNITY
BACKGROUND
Transparency International Zambia (TI-Z) is the local chapter of the global civil society movement
Transparency International. It is a non-profit making non-governmental organization with a registered office in Lusaka, dedicated towards the fight against corruption and the promotion of transparency, integrity, accountability and generally good governance in the discharge of public functions. TI-Z's vision is A Zambia anchored on citizens and institutions of integrity, with a mission statement being a leading anti-corruption crusader contributing to Zambia's development based on a culture of integrity, transparency and accountability through the promotion of good governance and zero tolerance to corruption.
TI-Z is working to influence change at two levels, namely systemic change at institutional and policy levels; and attitudinal and behavioural change at personal level focusing on people to effect public service provision in public institutions by conforming to values of good governance.
TI-Z is seeking to recruit a Project Officer for the Strengthening Accountability Networks Among Civil Society (SANCUS) Project, whose objective is to improve democratic accountability of public institutions by empowering civil society organisations to demand systemic change to address accountability deficits.
SANCUS PROJECT OFFICER Job Purpose
The purpose of the SANCUS Project Officer position will be to provide day to day coordination of the SANCUS project, including project planning, implementation and supporting monitoring, evaluation and learning (MEL). Further, the purpose of the job will be to coordinate interventions generally related to public finance management, with a specific focus on the national budget cycle implementation and budget execution oversight monitoring. The job holder will work in collaboration with the Democratic Governance Lead and the Advocacy, Policy and Research Specialist.
The SANCUS Project Officer will provide timely technical advice and support to Management on issues of public finance management and national budget implementation.
Main Duties And Responsibilities
Reporting to the Democratic Governance Programme Lead, the SANCUS Project Officer will be responsible for the following:
Leading in the implementation of the SANCUS project;
Providing advisory support on public finance management and national budget cycle monitoring;
Creating strategic partnerships and forging partnerships with other TI-Z programmes;
Coordinating analysis and research on issues pertaining to public finance management and national budget cycle implementation;
Supporting the refinement and adaptation of results based management (RBM) tools within localised context, including providing capacity development among target public institutions, TI-Z and its district working groups (Transparency Action Groups – TAGs)
Coordinating support to district level partners (TAGs) on the implementation of social accountability tools on public finance management and budget execution;
Supporting the development of tools what will address critical governance challenges in public finance management and budget cycle monitoring;
Contribution to knowledge networks and community of practice, with a special focus on anticorruption and public finance management in Zambia; and
Participating in and contributing to Transparency International's regional and global advocacy on public finance management and budget execution.
Required Qualifications
Bachelor's Degree in any Social Sciences. A Masters degree will be an added advantage.
At least 3 years' experience working in the civil society sector. Experience working in the governance sub sector will be an added advantage.
Demonstrated experience in the implementation of social accountability approaches and tools.
Competencies
Practical and demonstrated experience in project management
Strong community mobilisation and empowerment skills
Experience in working with Government ministries, departments and agencies.
Strong understanding and application of Social Accountability approaches and toolsBasic understanding of policy engagement processes
Working knowledge of anti-corruption interventions
Research and analytical skills
Good Communication, teamwork and interpersonal skills
Application Procedure
All suitably qualified and interested individuals should submit their applications by email as follows:
To The Executive Director,
Transparency International Zambia
Email: [email protected]
Please note that a full application must comprise the following:
Cover letter;
Curriculum vitae with at least three references; and
Copies of qualifications (scanned and attached).
Applications that do not contain all the above will not be considered.
Applications must be submitted no later than 17.00hrs on Friday 23rd July 2021.
Please note that due to the ongoing COVID-19 situation, no physical applications will be accepted and any such applications will not be considered.