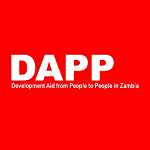 Development Aid from People to People (DAPP) is a nationally registered NGO working with development projects within the field of education, health, agriculture and other poverty alleviation programmes. Projects are carried out in all the provinces of Zambia reaching over 1 million people. Key funding partners include the Government of Zambia, national and international development organisations (USAID, EU, Global Fund, WFP and more) as well as private sector organisations.
DAPP in Zambia is looking to engage an experienced and dedicated Project Accountant.
The position is tenable in Ndola.
1. Main roles and responsibilities
Ensure that monthly transactions are posted in Pastel Accounting software on a timely basis and maintain accurate record keeping of all transactions.
Maintain custody of payment vouchers
Assist in the preparation and monitoring of project estimates/budget
Prepare schedules for statutory obligations related to the project
Verify the contractual and financial details of each invoice and payment
Assist in the preparation of payroll, updating lists of staff and their payments
Prepare documentation for audit purposes; producing audit file as required, supporting the coordination, planning, and execution of both the internal and annual audits
Produce timely bank reconciliations
Document explanations of significant budget variances on a monthly basis
Maintain up to date assets register including undertaking annual asset inventory
Perform monthly assets and liabilities reconciliations
Prepare timely and accurate periodic financial reports.
Conducts field site visits to ensure consistency with reporting timelines, budgets, and performance indicators
2. Qualifications
Bachelor of Accountancy Degree or equivalent, with at least 3 years' experience; or Diploma in Accountancy or equivalent with at Least 5 years' experience
Paid up member of Zambia Institute of Certified Accountants (ZICA)
Intermediate or advanced user of Pastel, or other approved accounting software
3. Application Method
Applications with detailed Curriculum Vitae (CVs) and minimum 3 referees must be received by 21st April, 2021
The cover letter and CV must be one document, and the applicant's name must be the document title.
Indicate the job title as the subject of your email.
Please indicate your current, or last salary and benefits in the cover letter.
Do not attach certificates and other documentation at this stage.
Please submit applications to these emails: 

[email protected]

, with copy to 

[email protected]
DAPP is an equal opportunity employer. Only shortlisted candidates will be contacted