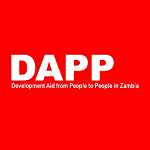 Self-Help Group Approach
Programme Officer and Accountant
Kindernothilfee.V, which means 'help for children in need', is a German non-governmental child rights organisation, founded in 1959, which supports more than 1.9 million children and young people in 33 countries in Africa, Asia, Eastern Europe and Latin America. Kindernothilfe (KNH) has been working in cooperation with local organizations in Zambia since 2001 and is currently supporting around 12 projects and programs that are implemented by direct partners. In addition to the direct partners, KNH promotes the Self-Help Group Approach (SHGA), which is implemented by 14 promoting organizations in Southern, Lusaka and Eastern Provinces in Zambia. The current project phase (6.5 years) started in July 2021.
Development Aid from People to People (DAPP) in Zambia is a nationally registered NGO working with development projects in the fields of education, health, human rights, agriculture and other poverty alleviation programs. DAPP has agreed to coordinate the Self-Help Group programme with the support of KNH from July 2021.
The Self Help Group Approach is a successful self-sustaining approach that enhances the living conditions of children and their families in a sustainable way. It empowers the most vulnerable women and children within a community to attain adequate sustainable economic and social living conditions as well as political participation by unleashing and developing their individual potentials in groups and networks. The programme tackles the structural causes of poverty by empowering women to increase family income, to address social concerns at household and community levels, and to give impetus for political change.
The SHGA Programme is coordinated by the National Coordination Office (NCO) based in Lusaka and consisting of; the Self-Help Group National Coordinator, 2 Programme Officers and an Accountant. The National Coordinating Office is responsible for the coordination of the overall Self Help Group Approach at the national level and is charged with the duty of building the capacity of the promoting organizations, documenting and forwarding the learning to the involved stakeholders and scaling-up the Approach in the country. The National Coordinator is supported by 2 Programme Officers, as well as an Accountant.
KNH and DAPP are seeking highly motivated and competent individuals to take up the following positions:
Position:  Programme Officer x 1 & Accountant x 1
Location:  The Programme Officer and the Accountant will be based in Lusaka at the National Coordination Office
Contract:  2 years with a possibility for renewal.
Specific Responsibilities for the Self-Help Group Programme Officer
Coordinate the work of the Self Help Group Approach promoting organizations in Zambia in consultation with the National Coordinator
Participate in organizing regular partner forums and trainings to provide inputs and share experiences on implementation of the Self Help Groups Approach in consultation with the National Coordinator.
Provide technical support to Promoting Organisations through ongoing capacity building platforms and whenever consulted by implementing organisations.
In liaison with National Coordinator and Programme Accountant, facilitate disbursement of grants to Promoting Organisations for implementation of SHGA
Travel regularly to conduct monitoring visits to the promoting organizations within the country, assess performance of Promoting Organisations, provide onsite technical support and provide feedback to the promoting organizations.
Prepare work plans and reports in consultation with the National Coordinator.
Review and assess work plans, budgets and reports submitted by the promoting organizations.
Promote awareness on the approach to other interested organizations.
Collect and document case studies, success stories, innovative approaches or best practices and lessons learnt to enrich programming and reporting.
Build and maintain effective working relationships with the promoting organizations, donors and with other external governmental and non-governmental stakeholders.
Support Promoting Organisations in drafting and implementation of the organisation's Child Protection Policies.
Document meaningful activity, progress and annual reports for submission to National Coordinator for onward submission to DAPP and KNH as is required.
Attend SHG Assistants/ National Coordinators' Meetings.
Perform any other related duties as may be assigned by the National Coordinator from time to time.
A1) Qualifications, Experience and Skills
The minimum required academic and professional skills for the job holder include the following:
A Bachelor's degree in Community Development or other related social sciences and at least 3 years' professional experience in facilitating and mentoring community development programmes.
Or a Diploma in Community Development or related field, with at least 5 years' professional experience in facilitating and mentoring community development programmes.
Experience in:
working with rights-based approaches;
working with women and strong commitment to children's rights;
facilitating participatory processes, such as PRA, in communities; and
facilitating budgeting and budget control.
Gender sensitivity.
Excellent monitoring, analytical, documentation and report writing skills.
Excellent presentation and facilitation skills.
Strong networking and partnership building skills.
Openness to learn new approaches.
Highly proficient in MS Word, Excel, Access, Power-point, and Outlook.
A good team-player, self-driven, capable of meeting deadlines and able to work under minimum supervision.
Willing to travel extensively within the areas of operation and to work extended periods in the field.
Ability to interact effectively with local communities.
A valid Driver's License with at least 5 years' experience.
Specific Responsibilities for the Self-Help Group Accountant
Disburse and receive retirements from Promotions Organisations (Sub-grantees) ensuring all documentation follows DAPP and KNH standards.
Mentor the Promotion Organisations and build capacity where required in the Promotion Organisations, virtually and through site visits.
Review retirements for completeness and quality and enter the data into Pastel.
Prepare bank and cash account reconciliations on a monthly basis.
Prepare requisitions and process payments twice a month: mid-month and month-end and as and when required.
Undertake proper and systematic filing of all financial documentation.
Maintain an up to date Asset Register.
Ensure that all assets are up to date with insurance and other legal requirements.
Undertake all preparatory work to facilitate audit of the SHG Programme accounts.
Prepare timely management accounts for management, Board and cooperating partners.
Maintain financial records in compliance with donor requirements.
Ensure annual implementation of the Chart of Accounts in accordance with different cooperating partners funding agreements
Ensure timely and full settlement of all activity funds given to programme personnel.
Maintain running balances on budgeted activities to avoid over expenditures.
Ensure employee defined contribution benefit is accounted for correctly.
Perform any other related duties as may be assigned by the National Coordinator from time to time
B1) Qualifications, Experience and Skills
The minimum required academic and professional skills for the job holder include the following:
A recognized professional Bachelor Degree in accounting or equivalent qualification
At least 3 years post-qualifying experience in financial management, including sub-grant management.
Membership of the Zambia Institute of Certified Accountants (ZICA), with a valid practicing certificate.
Membership of a recognised international accountancy institute e.g. CIMA, ACCA will be an added advantage
Experience with using appropriate computerised accounting package (Pastel)
Excellent oral and written communication skills
Submission Instructions
Applications must be sent with the following information
Motivation letter with a detailed Curriculum Vitae (CV); containing 3 professional referees, preferably, the current, or most recent supervisor, and must be submitted through email
The motivation letter and CV must be one file, and the applicant's name must be the document title.
The job title, that is, Programme Officer or Accountant, must be the subject of your email.
Please indicate your current, or last gross salary and benefits in the cover letter.
Do not attach certificates and other documentation at this stage.
Applications must be received latest on the 23rd July, 2021.
Send to E-mail: [email protected] and to [email protected]
Only shortlisted candidates will be contacted.