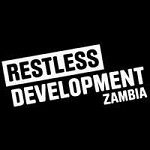 Website Restless Development Zambia
ABOUT RESTLESS DEVELOPMENT
We know young people have the power to solve the challenges we face in our world, but they are being ignored and overlooked. We are the agency that works with young people so they can lead in solving those challenges. Whether that means supporting communities to end child marriage or prevent HIV, we work with young people to change their lives and the lives of people in their communities.
Our programmes are genuinely life-changing, but can't do any of this without talented, creative individuals at every level of our organisation.
OUR APPROACH TO SAFEGUARDING
Restless Development considers the welfare and protection of children, young people and vulnerable adults to be an organisational imperative with primacy over the success of programmes or strategic objectives. We recognise that safeguarding is everyone's responsibility and we expect all of our staff, volunteers and partners to ensure we protect the communities in which we operate from harm and abide by our Safeguarding Policy.
ABOUT THE ROLE
Restless Development Zambia has since 2003, been equipping youth to voice their priorities; facilitating their access to decision makers for accountability; and supporting platforms for youth to demonstrate that they are effective change agents. We strengthen government, institutional and civil society partners' capacity to engage with youth. Our evidence-informed policy engagement is unique in its approach, cutting across government, private sector and the NGO sector and this has set us apart as an innovative partner in development.
Restless Development Zambia is seeking a dynamic and talented Program Manager to oversee our LIVING programme work. The Living programs focus on the type of work young people are doing, not on their income alone. We do not want to just ensure that young people are just surviving; we want to ensure that they are thriving. We see two components of work that we want to support young people to achieve, that is, securing work that is decent and sustainable. We acknowledge that identifying what "decent" and "sustainable" work is, according to young people is both complex and context-dependent. We also acknowledge that we cannot look at Living in terms of young people alone; we need to look at their ecosystem holistically. This requires that we unpack structural factors that constrain young people from maximizing their Living: inequalities, gender issues, intersectional marginalization, and power dynamics at the community, national, regional, and global level. We need to equip young people to champion for economic justice, interrogating the economic models that govern their lives and challenging these models where they are not sustainable.
The Programme Manager will provide program oversight, learning, contribute to Investments and partnerships, people management, budget management and serve as an active member of the Leadership Team. S/he will be responsible for the direct implementation of one our Living project as project lead – and supervise other project leads implementing other Living projects. S/he will be the Hub technical lead both on Living and on gender.
ABOUT THE ROLE
Job title: Programme Manager – Livelihoods and Gender
Location: Kabwe
Salary: ZMW 274,380 basic salary per annum
Length of contract: 2 years
Start Date: As soon as possible
Probation Period: 6 Months
VISA Requirements: None- Open to Zambian Nationals only
Reports to: Senior Programme Quality Manager
Direct reports: Two Programme Coordinator, Two Assistant Programme Coordinators
Expected travel: National Travel will be required with possible International travel
KEY PRIORITIES
1. Programme Oversight and Learning
Working closely with the Programme Quality team to:
Support the LIVING programme's design and development; by incorporating feedback and lessons learnt from Implementation.
Oversee and manage all programmes under Living within the hub and lead regular review of all programmes to ensure effective programme management.
Establish and maintain feedback mechanisms to reflect and refine program delivery and quality; ensuring all key stakeholders are providing and receiving feedback.
Oversee development of programme materials (manuals and other training materials) and provide programme guidance for staff and young leaders.
Document evidence of good practice for both internal and external learning and ensure systematic integration and application of organisational learning.
Take full responsibility of programme risk management by analysing data, anticipating, identifying and mitigating risk factors.
Develop and incorporate programme sustainability strategies into the existing and future programmes.
Support the integration of LIVING in the design and implementation of the VOICE, SRHR and LEADERSHIP goal programme areas.
Lead the planning effort and develop workplans.
Be the technical expert for the Hub on living and gender. Advise other projects on both aspects.
Advocate for young people's rights to a decent living. Represent the Hub in technical working groups and committees in Zambia.
2.  Investments, Partnership and Management
Identify LIVING funding opportunities and support new business development (program design).
Identify, develop and manage LIVING programme partnerships with government, donors, NGOs and other key stakeholders.
Oversee all LIVING programme events to raise the profile of the programme.
Represent Restless Development in local and national forums and platforms.
Ensure quarterly reporting of our activities to local governments and ensure participation as required in meetings and events.
Work closely with the Investments unit to ensure that all Living proposals are assessed against the programme design protocol.
Liaise with the programme, finance, and monitoring and evaluation teams to ensure timely development and submission of donor and partner reports.
3.  Financial Planning and Management
Work closely with the Finance unit to:
Lead on developing, managing and regularly reviewing the programme budget.
Support development of donor budgets and expenditures report.
Support development of annual programme budgets and quarterly reforecasts.
Ensure financial policy and procedure is adhered to by the team.
Monitor project performance to ensure projects are on track against key performing indicators. This includes monitoring project deliverables, budgets, burn rates, and appropriate coding and cost recovery against each grant and raising any areas of concern to the Leadership Team.
4.  Personnel Management
Manage all direct reports under Living programmes and serve as a role model at all times.
Coordinate training and other capacity-building initiatives for staff as required.#
Take charge of the performance management cycle for programme staff in your unit, while ensuring that all staff in your unit have up to date performance objectives and career development plans and that
Line Management and Performance Management meetings are happening.
Support Recruitment, selection, and orientation of new staff.
Ensure human resource policy and procedures are adhered to by your team.
5. Leadership Team Member
Serve as active member of the Zambia Leadership Team.
Ensure timely documentation and dissemination of key findings from programme to inform learning and presenting to the Leadership Team.
Play key role in the strategic planning and review processes in coordination with the other programme team and immediate stakeholders.
Provide regular updates on partnerships underpinning the LIVING programme.
Provide guidance and expertise on programme issues to Leadership Team and broader organisation as required.
6. Other duties as required
Other duties as required, occasionally working on weekends, late night in case of young leader incidents and holidays for which time off in lieu can be taken.
ABOUT YOU
We are looking for people with the right competencies and skills for the role, and who demonstrate the personal qualities consistent with our Values.
Values, Behaviours and What we expect of the Programme Manager-Livelihood and Gender.
HEART
We are who we serve. We are brave.
Values-led; Embeds a values-led culture within their team; both recognising and rewarding behaviour which upholds the Restless Values and professionally challenging behaviours which do not.
Innovation; Fosters a climate of innovation and continual improvement across their team. Considers external best-practice when adapting plans; acting positively and quickly to assess and resolve issues.
HEAD
We are 100% professional. We prove that young people can
Delivers Quality; Takes full accountability for performance and value-for- money within their team. Ensures team capacity to deliver quality against strategic priorities, and guides their team to develop solutions for anticipated problems.
Decision- Making; Takes full accountability for managing a budget and/or programme and/or incidents. Considers the organisational vision, Restless Values, external influences, and long term impact when making decisions. Supports more junior staff
VOICE
We generate leaders. We are proud to carry the banner for youth- led development.
Leadership; Plays a key role in strategy development. May manage a small team, taking accountability for team performance and creating a compelling leadership vision for their team. Inspires and supports others to take on a leadership role. Voice/ advocate for young peoples' pertinent issues
People Development; Drives their own personal development, committing to new challenges which build capacity for the organisation. Supports team members to fulfil their potential through effective performance management, mentoring and other opportunities for growth
HANDS
We are in it together. We listen and learn.
Effective Communication; Builds consensus and commitment amongst staff and national partners, using effective communication to navigate difficult topics. Coaches others to communicate effectively.
Collaboration; Utilises their internal and external relationships to enable others to expand their network; creating opportunities for others to broaden their awareness of other parts of the organisation and/or current issues. Cultivates national partnerships.
SKILLS AND EXPERIENCE
Essential
Graduate-level Degree in relevant field of study. Post graduate studies are an added advantage.
Minimum 3 years of experience in programme management, including proven experience of managing Living or Livelihood programmes relating to youth with a strong focus on Gender
Experience in implementing gender transformative approaches in programme management and programmes relating to youth.
Strong partnership development and networking skills.
Excellent numeracy skills with strong experience in budget management.
Excellent understanding of project cycle management.
Good understanding and practical experience of youth development in Zambia.
Excellent verbal and written communications skills.
Experience of donor management and reporting.
Ability to lead, inspire and develop a talented team, including experience of managing young staff with limited experience.
Excellent problem-solving skills and ability to make sound operational decisions.
Strong team player able to work under own initiative.
Willingness to travel to rural areas as required.
A strong personal commitment to the values of Restless Development.
Desirable
Excellent interpersonal and communication skills (written and verbal), fluency in written and spoken English essential and excellent IT skills.
Experience working in a youthful, multicultural environment including welfare provision.
Risk mitigation, response and management.
A clear understanding of contemporary development issues particularly those related to economic opportunities for youth, sexual and reproductive health and rights as well as accountability in governance.
Restless Development is an Equal Opportunities employer and seeks to recruit, retain and develop staff from all sectors of the community and will ensure that no applicant or staff member receives less favourable treatment on the grounds of gender, sexual orientation, marital status, social status, caste, race, ethnic origin, religious belief, age, HIV status, disability, or any other factor that cannot be shown to be relevant to performance.
WHAT WE DO FOR YOU
Remuneration
We are proud to commit to a transparent global salary scale, ensuring a fair and comparable system of pay across all global locations.
Values and Culture
At Restless Development, we're proud that the strength and integrity of our Values has been recognised by staff, beneficiaries, donors and others who we work with. Beyond this, we have a culture of recognising and celebrating both our Values and our global achievements with monthly Values Champions and an annual Values Day.
Work-life balance
It goes without saying that we work hard, at Restless Development. We also recognise the importance of helping staff to maintain a positive work-life balance by offering:
24 days' annual leave (in addition to public holidays).
Access to Flexible Working.
Generous study leave, maternity, paternity or adoption leave, and other leave allowances.
Professional development
Restless Development is proud to be an employer who recognises potential and invests in the development of its staff. We are committed to the professional development of our staff through:
Empowering opportunities to work on significant projects which stretch and inspire staff, following them to develop on-the-job.
Regular performance management.
Training and development opportunities, including supporting our staff to identify mentors both within and outside of the agency.
Quarterly Staff Workshops for all staff to give and receive agency updates, receive training, and socialise.
Travel and medical insurance
We provide medical insurance to staff and one dependent. When travelling abroad with work, all staff will be covered by Restless Development's travel insurance.
KEY DATES
Please send a completed application form to [email protected], by 28th September, 2021 Indicating Subject as "APPLICATION_YOUR NAME_ PROGRAMME MANAGER LIVING".
Please note that we do not accept CVs, resumes or covering letters.
Click Here to download the Application Form.
Click Here to download the Job Description.
1st round of interviews will be conducted on a date to be advised.
Find Zambia Jobs – The best job board for Jobs in Zambia