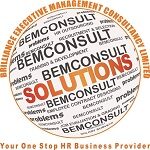 Brilliance Executive Management Consultancy (BEM Consult)
Job Title: Programme Assistant
Job Purpose
The Programme Assistant will assist the Project Manager in the EU/NCA funded SGBV Programme to follow up partner implementation (annual planning, implementation, reviews, monitoring and reporting). Assist Programme Manager and Thematic Programme Officers in the management of partner-based programmes. Assist in coordinating thematic based platforms for learning in liaison with Programme Officers. Assist in Managing partner budgets and track transfers in Maconomy Portal
Summary of Key Responsibilities;
Assisting in providing quality assurance in the entire project life cycle and contribute to the Global CoP for learning.
Assist to facilitate collection of Programme Data for programme reporting and learning in partnership with partners.
Participate in Partner capacity building undertaken by JCP
Assist in following up both partner narrative and financial reports and electronic and physical filing of key documents in Project Information Management System (PIMS).
Assist in organising specific partner meetings, platforms for learnings in liaison with Programme officers.
Participate in Programme Meetings and JCP team-building meetings and ensure adherence to "Siavonga Values".
Assist Programme Manager/Programme Officers in applauding key programme documents in Project Information Management System (PIMS).
Assist Regular follow up with partners on project implementation, monitoring, reporting/ learning
Support with logistical arrangements in relation to programme meetings, partner platforms.
Guide JCP staff/partners in preparation of quarterly, half-yearly, annual and end of programme reports.
Participate in thematic field monitoring and produce related field monitoring reports.
Assist in providing written feedback/ discussions with partners on the Quarterly, Semi-annual and Annual Reports
---
Primary Areas of Accountability:
Qualifications and Experience
Degree in Development Studies or related
Must have a minimum of 4-6 years experience working in an international NGO focusing on Project Management, Development, Gender/Human Rights and Good Governance, Sustainable Development, Sociology,
Ability to contribute to project planning and implementation.
Knowledge of Development, rights especially Gender & Gender-Based Violence
Knowledge of Partnership Development and Management
Experience in Project Planning, Management and Results-Based Reporting
Knowledge of Rights-Based Approach to development
Must be fluent in Most Zambian Local Languages
If you meet the minimum hiring requirements for the above position, please email your CV and Cover letter clearly stating your salary expectations to: [email protected] and copy in [email protected]

Note that, all communications will be kept in the strictest of confidence. If you do not receive communication within 21 days of the closing date of the advert, please consider your application unsuccessful.
DO NOT SEND CERTIFICATES AT THIS STAGE
Find Zambia Jobs – The best job board for Jobs in Zambia