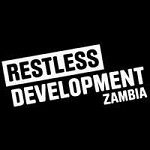 Restless Development
About Restless Development.
We know young people have the power to solve the challenges we face in our world, but they are being side-lined. We are the agency that works with young people so they can lead in solving those challenges. Whether that means supporting communities to end child marriage or prevent HIV, we work with young people to change their lives and the lives of people in their communities. Our programmes are genuinely life-changing, but we can't do any of this without talented, creative individuals at every level of our organisation.
About the Role.
Restless Development therefore seeks to recruit for the project a dynamic, inspired and innovative young Zambian to fill the roles of Program Quality Support Intern. The Program Quality Support Intern will be based in Ndola. The Program Quality Support Intern will work directly with the Assistant Programme Coordinator and the programmes team to coordinate the programme activities and support community based facilitators under the health thematic area of Kudziwa (to know) Programme.
About You
Essential and Desirable skills, Knowledge and experience
Ability to analyze, summarize and synthesize learning and evidence and produce high quality written outputs suitable for management use
Excellent communication skills (verbal & written) in English
Hard working with the ability to multitask
Experience in budget management and financial accountability
Computer literate, able to work with Microsoft Office Packages (Word, Excel, Power point)
Organized, with excellent time management
Experience volunteering on a social development programme/intervention
Educational Background
Diploma in any social science or equivalent work experience.
How to Apply
Please send a completed application to [email protected] by 26th April, 2021 indicating subject line as "APPLICATION_YOUR NAME_ PROGRAM QUALITY SUPPORT INTERN _NDOLA" E.g. "APPLICATION_JANE DOE_ PROGRAM QUALITY SUPPORT INTERN_NDOLA