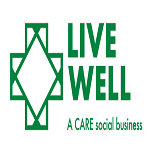 Program Manager
Live Well Social Business Limited is a for-profit Social Enterprise incorporated and registered in Zambia. The social enterprise operates within the legal and regulatory framework of Zambia. Its aim is to establish sustainable operations that will reliably provide access to affordable, quality health products and supplement livelihoods. Live Well aims to become financially sustainable while maintaining a clear focus on delivering social impact to underserved rural and peri-urban communities. Live Well is an independent Zambian social enterprise built on decades of work by partners with deep experience in supporting the livelihoods of communities. The social enterprise is part of the CARE International network and aligned with the Ministry of Health in Zambia. Live Well has developed a business model that empowers communities through recruiting, training and supporting of Community Health Entrepreneurs that generate social impact through the provisions of last mile service and goods.
Live Well is looking for a Program Manager to join our team in Lusaka,
Key Responsibilities and Deliverables
Plans, designs and implements project deliverables in accordance with stakeholders, operational plans, the Terms of Reference for the project as well as project methods and standards.
Develops with key stakeholders a costed one-year work plan and updated M&E Framework and Impact Statement.
Manages the implementation of the protocols for monitoring, as well as the budgetary and financial controls to account for and report on the utilization of project assets.
Guides project staff and performs the full range of human resource management tasks including recruiting team members, delegating work, inspiring a team approach and monitoring, evaluating and reporting on individual performance.
Fields and explores problematic issues arising from project activities; confers with project stakeholders and provides direct advocacy, training, mentoring and assistance as required.
Establishes and maintains constructive business relationships with stakeholders including cross-functional links with counterparts in other social enterprises, NGO's, local government, and with affected communities.
Drives a cost based and sustainability objectives in programs that will ensure profitable or equitable outcome for Live Well and partners in projects.
Participates in long-range strategic planning exercises and contributes professional expertise and operational experience to the development of strategies for Live Well Social Business;
Fields and identifies solutions to any problematic issues arising during project activities; participating in forums where project lessons can be disseminated.
Adheres to all Organization policies, procedures and business ethics and ensure that they are communicated and implemented within the team.
Qualifications, Experience and Skills
Degree in Social Sciences or Development Studies
At least 5 years relevant work experience.
Good technology capability or knowledge. Medium to Advanced level on Excel
Sound knowledge in health and rural livelihoods programing
Qualification in project management with at least three years' experience in managing projects involving multi partners and stakeholders added advantage
Demonstrate ability to write reports and training materials
Demonstration of participation in successful fund raising proposals
Required to interact with other staff and community member, District and Provincial levels.
Proven ability to make project-related decisions involving staffing, budgets, assets and approaches.
Ability to proactively manage relationships with donors, government, partners, other Live well members and recipient communities.
Demonstrate team and motivational leadership
Managing performance for Success
Analytical and Critical thinking skills
Excellent interpersonal skills and communication skills
Research skills
Facilitation skills
Please send applications to [email protected] . Only submissions done before 5pm on 5th November 2021 will be considered.