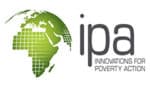 Website Innovations for Poverty Action
Job Title: Procurement Assistant (1)
Reports to: Country Representative
Innovations for Poverty Action (IPA) is a non-profit organization that creates and evaluates solutions to social and development problems and works to scale up successful ideas through implementation and dissemination to policymakers, practitioners, investors, and donors.
Innovations for Poverty Action (IPA) Zambia seeks a qualified and suitable candidate to join the IPA Zambia Team as a Procurement Assistant.
The Procurement Assistant will report directly to the Country Representative and the IPA management team. The Procurement Assistant will be responsible for assisting the IPA Zambia Operations and Procurement department.
Specific Duties:
Nurture relationships with suppliers to negotiate the best prices for IPAZ
Carry out periodic market surveys to ensure services and goods procured for IPAZ are competitively priced
Prepare and share approved purchase orders with suppliers
Ensure the accurate and timely delivery of requisitioned goods
Perform general clerical duties such as maintaining procurement files, typing, and data entry
Provide support with internal procurement inquiries from projects
Correspond with vendors regarding price, product availability, delivery terms, and requisite documents required for the payment process
Respond to inquiries regarding requisitions, purchase orders, contracts, and pricing information
Assisting program teams with procurement planning and requests
Perform any other duties as assigned by supervisor and management, including assistance with recordkeeping
Qualification and Skills:
Diploma in Purchasing and Supply or its equivalent
At least 2 years of experience in supply chain/procurement
Fluent oral and written communication skills in English
And able to follow written instructions and communicate effectively over email
Clean criminal record
Zambian Citizen
Membership in ZIPS and/or CIPS is a plus
Experience with NPOs/NGOs is a plus
How to Apply:
Applications with detailed (CVs) must be sent by 6th August 2021.
The cover letter and CV must be ONE document, and the applicant's name and NRC must be the document title. For example (John Smith.101010.12.1)
Do not attach certificates and other documentation at this stage.
Please submit applications by uploading to this link:  Procurement Assistant Recruitment .
NOTE: If you don't get feedback two weeks after the deadline, your application is unsuccessful.
CVs will be reviewed on a first-come, first-serve basis.