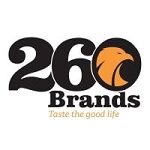 260 Brands (Seba Foods Zambia Ltd.)
Job purpose
Reporting to Process Manager, the Supervisor plays a critical role in day-to-day operations of the entire production line. This includes the control of manpower, machine-man power utilization, maintaining hygiene on the shop floor, quality of produce, sanitization and bulk loading and unloading of materials at shop floor
Key responsibilities
Responsible for quality, food safety and product specifications.
Be a key operator in the blending of a range of products which includes milk, flavored milk, soymilk, fruit beverage
Accurate and timely interpretation of recipes and translating this into product by the weighing, measurement, calculation and combination of raw materials
Ensuring that there are no product losses by following in place processes and guidelines
Performing quality control testing on ingredients and samples
Blending of fruit beverages, flavored milk blending, sugar syrup preparation and transfer on to products, Grinding and mixing of defatted soy flour.
Adapt to site needs, completing production and process work as required
Monitor and control raw material usage and handling with the aim of minimizing ingredient losses
General cleaning of areas, tools, machinery, utensils – disposal of waste
Communicating with co-workers and management verbally & by telephone
Troubleshooting issues as they arise and reporting anything out of the ordinary
Maintaining a safe work environment for yourself and your colleagues including the use of correct PPE always
Actively participating in any meetings and activities
Monitor blending equipment according to the specifications of components and blend amounts.
Control valves, pumps, speed and temperatures in accordance with industry standards for blending.
Must adhere to established testing procedures and provide required samples to the laboratory.
Must be able to assemble and disassemble equipment for proper cleaning/sanitizing and operating per manufacturer instructions.
Observe and test system operation, using gauges and instruments.
Engage in dismantling, assembling, and installing equipment.
Maintain communication with other departments, management and employees and notify them of any problems and/or concerns that may restrict the efficiency of production.
Ensure all paperwork is filled out in a clear, legible and accurate format, and completed with required information.
Ensure all required information is documented in accordance with SOP's.
Analyze process data and equipment performance data to improve quality, throughput, and troubleshoot.
Utilizing continuous improvement mindset, assist in identifying opportunities to improve processes.
Follow Good Manufacturing Practices.
Maintain a clean, sanitary and safe work area.
Follow all required work safe practices. This would include wearing of all required PPE in designated areas, confined space safety, safe chemical handling, fall restraints, etc.
Responsible for food safety, pre-requisite programs and food quality related to designated area. Report any food safety and food quality related issues to management immediately.
Perform other duties as assigned.
Key Qualifications & Requirements Experience:
Minimum of 5 years, preferably in the FMCG (Fast Moving Consumer Goods) and beverage industry.
Education Level: Grade 12 certificates, Diploma and Degree courses
Qualifications: Diploma and/or degree in Production Management or relevant field
Good knowledge of Microsoft office.
Good Command in English Language, Nyanja and Bemba
Abilities: proven abilities of a quality supervisor background.
Personality: Self-motivated, Completing tasks on Time.
For all interested candidates, please email a CV and relevant qualifications to [email protected] with "Processing Officer" in the subject line.
Find Zambia Jobs – The best job board for Jobs in Zambia