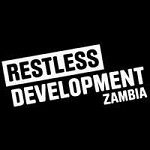 Website Restless Development Zambia
We know young people have the power to solve the challenges we face in our world, but they are being ignored and overlooked. We are the agency that works with young people so they can lead in solving those challenges.  Whether that means supporting communities to end child marriage or prevent HIV, we work with young people to change their lives and the lives of people in their communities.
Our programmes are genuinely life-changing, but can't do any of this without talented, creative individuals at every level of our organization.
OUR APPROACH TO SAFEGUARDING
Restless Development considers the welfare and protection of children, young people and vulnerable adults to be an organisational imperative with primacy over the success of programmes or strategic objectives. We recognize that safeguarding is everyone's responsibility and we expect all of our staff, volunteers and partners to ensure we protect the communities in which we operate from harm and abide by our Safeguarding Policy.
ABOUT THE ROLE
Restless Development Zambia has since 2003, been equipping youth to voice their priorities; facilitating their access to decision makers for accountability; and supporting platforms for youth to demonstrate that they are effective change agents. We strengthen government, institutional and civil society partners' capacity to engage with youth. Our evidence-informed policy engagement is unique in its approach, cutting across government, private sector and the NGO sector and this has set us apart as an innovative partner in development.
Restless Development seeks to recruit a dynamic, inspired and innovative young Zambian to fill the role of People and Performance Intern. The Intern will support the People and Performance Unit to carry out a range of human resource duties including recruitment, induction, Administrative Tasks and Coordination of other HR Processes. The successful candidate will have strong organizational and IT skills, and a relevant Human Resource qualification.
ABOUT THE ROLE
Job title: People and Performance Intern
Location: Kabwe
Salary: ZMW 2,850 Monthly Gross Allowance 
Preferred start date: TBA
Length of contract: 6 months
Visa requirements: Must have the right to work in Zambia
Reports to: Assistant People and Performance Coordinator
Direct reports: None
Expected travel: National travel will be required (approximately 5%)
KEY PRIORITIES
The People and Performance Intern Scope of work will be supporting the People and Performance systems across our Offices in all locations we operate from;
1. Recruitment
Input in the designing of adverts for publicity.
With support from the People and Performance Assistant Coordinator, Sorting applications for employment prior to the short listing process.
Organize interviews for short listed applicants, including arranging the interview date, panel, rooms and interview programme as well as the preparation and distribution of interview packs.
With support from the People and Performance Assistant Coordinator, Complete pre-employment checks for preferred candidates in a timely manner and manage the personnel records ensuring all are kept up to date.
Assisting with the new starter process, including setting up new starters, checks and ensuring all details are accurately recorded, such as qualifications, reference checks etc.
2. Induction
Communicate details of new employees to appropriate colleagues to ensure facilities and equipment are readily available upon commencement of employment.
Ensure new employees receive Induction Packs and associated information on their first day of employment.
Make the necessary arrangements for new employees to attend induction training
3. Administrative Tasks and Coordination of HR Processes
Assisting the HOO's office with filing documents
Printing, copying, filing and disseminating information
With support from the People and Performance Assistant Coordinator, track and systematically record annual leave and other leave types for all staff.
4. OTHER
May be occasionally be required to work on weekends and/or public holidays for which time off in lieu will be granted.
Other duties as required.
SKILLS AND EXPERIENCE
Essential;
Possess excellent communication skills
Coordination, judgment and decision making
Organization
Time management
Fluent written and spoken English
Belief in the values of Restless Development and ability to uphold them personally
A strong personal commitment to the values. Code of conduct and methods of Restless Development (see website).
Desirable;
Highly conversant in the use of Microsoft Office packages including MS Excel and MS PowerPoint.
Have thorough knowledge of Zambia's human resources practices and labour laws.
Person Specification;
The Individual must be results orientated, highly self-motivated and have demonstrated analytical skills and ability to communicate effectively.  The successful candidate will thrive in a multicultural environment as part of a rapidly growing and developing organisation and be personally committed to Restless Development's mission and values.
A high level of motivation and ability to work independently as well as part of a team.
Team and Relationship builder
Educational Background
Minimum:  Diploma in relevant field of study, or equivalent work experience i.e. Public Administration, Human Resource Management.
Registered Member of the Zambia Institute of Human Resource Management.
How to Apply
Please send a completed application form to [email protected] by 4th December, 2021 indicating Subject as "APPLICATION_YOUR NAME_P&P INTERN".
Interviews are scheduled to take place on a date to be advised.
Please note that we do not accept CV's or covering letters.
Click Here to download Application Form.
Click Here to download Job Description.
*Local residents are encouraged to apply*