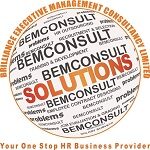 Website Brilliance Executive Management Consultancy
Description:
Job Purpose
The Operations Officer – Digital Banking will be responsible for acquiring new customers, calling on existing or prospective clients in order to build new business, producing growth in income by selling digital products and services (e.g. POS, mobile, internet, cards, agency banking, etc.).
Summary of Key Responsibilities;
Developing relationships with referral sources, and identifying and capitalizing on other business development opportunities for digital banking products and services.
Maintain knowledge of industry trends, products, and technology; and broaden new business opportunities for digital products for the bank.
Work interactively with other Digital Banking members on customer relationship management and operational processes.
Escalate issues, situations, or problems relating to digital banking that require urgent attention.
Provide oversight and guidance to the agency commercialization and expansion process, ensuring that the agent model is robust enough to achieve the targets set by the bank.
Develop and oversee agent training and onboarding planning, content, and operations to ensure agents fully understand the agent value proposition and are equipped with the necessary sales skills and tools to sell bank products.
Ensure compliance with Bank of Zambia requirements for agency banking.
Work with the product development team to build out products to deliver over agency banking.
Work with the marketing team to develop and launch marketing strategy for new customer acquisition/activation and drive up the uptake of digital products.
Primary Areas of Accountability:
Qualifications and Experience
Degree in IT / Business or Equivalent / Related Disciplines
Must have relevant IT Certifications or Equivalent
At least 3-5 years relevant experience in related product development in a Commercial Bank
Be highly aware of market trend, new technologies, new FinTech products and business models.
Able to work independently, organized, creative and attentive to details
Be a good team player and self-motivated with a strong analytical mindset plus able to manage multiple projects
Be innovative with proficient organizing & execution abilities.
Excellent communication and interpersonal skills
Good command of English
If you meet the minimum hiring requirements for the above position, please email your CV and Cover letter clearly stating your salary expectations to [email protected] and copy-in [email protected]

Note that, all communications will be kept in the strictest of confidence. If you do not receive communication within 21 days of the closing date of the advert, please consider your application unsuccessful.

DO NOT SEND CERTIFICATES AT THIS STAGE