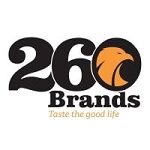 260 Brands (Seba Foods Zambia Limited)
(1) Nutritionist Sales Representative x1
Developing and supporting sales goals in rural markets, focused on 3 districts neighboring Lusaka
Educating various customers and shoppers on health benefits, pertaining to our products
Focus on building sales at, but not limited to, Hospitals, Clinics, and Schools
Comprehensive knowledge of all products, protocols, and guidelines as well as the ability to deliver the information in a selling environment
Plan marketing requirements and manage a team of promoters to support with wet demonstrations, activations, and tastings
Coordinate with loading and managing sales early in the morning, as this will require cold chain logistics
Effective administrative skills, with time management
Budget management
Ability to function independently with a high degree of initiative, independence, and autonomy.
Desire to be self-motivated, seeking out success at achieving both short and long-term goals.
A diploma in Nutrition is required
Bachelor's degree not required but a plus
Must be able to lift up to 10 kgs to assist with stocking and the movement of beverages
Experience is not required, but a plus
Territory: responsible for Lusaka, Chongwe, Mumba, and Kafue districts
(2) Sales Receptionist x1
Duties
Verifying and fulfilling orders in the ERP
Drawing up Invoices from customers. Responsible for printing invoices and stock reports.
Requesting for invoice approval from Country Sales Manager
Order sheet to be sent on a daily basis.
Sending invoices to customers.
Depositing payments from customers and getting invoices cleared
1) 1-year professional work experience and/or recently completed (within the first year of graduation) a University degree or diploma in business administration, sales & marketing, and/or any relevant field;
2)      Experience in customer service and client-facing roles that interact with numerous customers is a plus
3)      High level of computer literacy with a strong command of Microsoft Office products (Word, Excel, and PowerPoint), with a particular emphasis on Microsoft Excel
4)      Experience with ERP software is a plus
5)      Thrives working within strict timelines and in 'high-pressure environments' and demonstrates excellent time management skills
6)      Ability to work independently with minimum supervision;
1)       Punctuality
2)      Intellectual curiosity
3)      Willingness to take initiative
Ability to work under pressure to meet deadlines
For all interested candidates, please email a cover letter and resume to [email protected] with 'Nutritionist Sales Representative' in the subject line
Find Zambia Jobs – The best job board for Jobs in Zambia