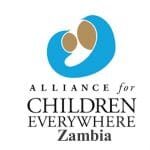 Website Alliance For Children Everywhere Zambia
Alliance for Children Everywhere-Zambia 
Alliance for Children Everywhere-Zambia (ACE-Z), is a faith based, non-profit organization which was formed in 1998. The primary goal of ACE–Z is to mitigate and intervene in the pressing needs of orphans and vulnerable children. ACE-Z's unique approach to dealing with vulnerable children is premised on the promotion of family-based care for children. ACE-Z is a leading organization in promoting family-based care for children model and works in collaboration with the Government of the Republic of Zambia through the Ministry of Community Development and Social Services (MCDSS)
Job Title: Nurse
Duties And Responsibilities
Diagnose and treat children's minor ailments
Closely monitor the growth and progress of the children and be able to identify those with special needs
Recommend to management, specialized care that could be needed for particular child/children
Develop individual development plans for each child with focus on child functional development
Work with Social Services department
a.    In preparing the children and their Foster/adoptive/ biological families for discharge or reintegration
b.    In preparing the children for referral to other institutions
Consistently ensure that the children's environment is clean
Formulate, maintain and update inventory in the nurseries
Conduct routine hygiene activities for infants under the age of 6 months'
Directly Supervise caregivers
Clearly outline handovers after every shift in Nurse handover note book
Receive and admit children with guidance from Social Worker In Charge of the transit homes
Carry out Feeding of babies and infants and demonstrate feeding techniques to transit homes' caregivers
Closely monitor the health status of infants and Inform managers about ailing babies
Specific Skills
Good clinical practice
Good medicine management
Able to prepare nursing care plans for children
Driving skill will be an added advantage (Valid Drivers License)
Qualifications
A Diploma in Registered Nursing
Fully Registered with latest Practicing License by the Zambia Union of Nurses Organization (ZUNO)
A qualification and experience in Psychosocial Counseling (especially involving children) will be an added advantage
Zambia Enrolled Nurses with Midwifery Qualifications are also encouraged to apply
Two (2) years proven work experience
Note: Only candidates meeting the ab0ve requirements need apply to the below email address, no hand delivered applications will be allowed.
Application Mode:
Send an Application Letter, certified copies of Academic and Professional Qualifications and Curriculum Vitae, addressing your application to the Executive Director. Email your applications to: [email protected].
Closing Date: The closing date for applications is Friday, 15th October, 2021. Only shortlisted candidates will be contacted.