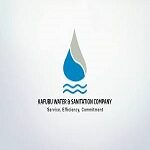 Kafubu Water and Sanitation Company
Kafubu Water and Sanitation Company is a Water Utility Company on the Copperbelt providing quality water and sanitation services to its customers in Ndola, Luanshya and Masaiti. In its continued strides to sustain and improve service delivery to its esteemed customers, the Company seeks to employ a highly motivated and goal oriented professional in the position of :
Position: Network and Systems Administrator (x1)
Overall purpose of the job
To be responsible for designing, installing, configuring, and maintaining the company's Network, Internet and computer systems.
Main duties and responsibilities
Administers network workstations, utilizing one or more TCP/IP or non – TCP/IP networking protocols and /or one or more Windows based operating systems.
Evaluates and or recommends purchase of computers, network hardware, peripheral equipment, and software.
Investigates user problems, identify their source; determine possible solutions, test and implement.
Installs, configures and manages Ethernet networks, network cabling and other related equipment.
Maintains and controls the communication of the SCADA Network for the Company
Develops and conducts Various Training and instruction for the systems users on operating systems, and other applications; assisting users in maximizing use of networks and computing systems.
Investigates and identifies utilization patterns and their effect on operating systems/systems availability and performance expectations and recommends/Installs enhancements and operating procedures and optimizes network availability.
Anticipates communication and systems problems and implement preventive measures.
Establishes and performs maintenance programmes according to Company and vendor specifications, ensuring timely user notification on effects and network availability.
Maintains confidentiality with regard to the information being processed, stored or accessed by the network.
Ensures all servers are patched, available and secure.
Manages, supports and ensures availability of LAN (Local Network) and WAN (Wide Area Network) both wired and wireless for all hours of Operation.
Undertakes any other duties as may be assigned from to time to time.
QUALIFICATION AND EXPERIENCE
Minimum Qualification
Grade 12 School Certificate with Minimum 5 O Levels
Degree in Computer Studies or its equivalent.
Cisco Certified Network Administrator (CCNA)
Knowledge of Sophos XG Firewall will be an Added Advantage.
Member of the Information and Communications Technology Association of Zambia (ICTAZ)
Must be a Zambian
Relevant Experience
Three (3) years post experience in similar position
Clean and valid Driving license
Kafubu Water and Sanitation Company is an equal opportunity employer. if you are interested in the job and you possess the necessary qualifications and experience kindly submit your application electronically to: [email protected]
or send your application together with detailed curriculum vitae, copies of educational and professional certificates including names and addresses of three referees to the undersigned before close of business on Friday, 9th April, 2021.
Director – Human Resources and Administration
Kafubu Water and Sanitation Company
Vitanda Street
P.O. Box 71278
NDOLA