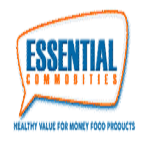 Website Essential Commodities Limited
Healthy Value for money food products
1. Financial Controller
The Financial Controller shall be responsible for providing effective financial decision-making support, delivering focused and timely business performance information, ensuring that control measures are in place to safeguard the income and assets in the business by following best operating practices, analyzing and interpreting financial performance against targets, ensuring all capital expenditure and investments are properly justified and effective working capital management controls exist.
Key areas of responsibility:
Being the main liaison with Internal as well as External Auditors
Effective and efficient introduction of new financial and administrative systems, procedures and processes as well as the standardization thereof throughout the business
Development and implementation of financial process protocols and provision of advice on improvements in the efficiency of the information capturing and interfacing processes
Data management and implementation of internal controls to ensure that system and master data integrity and accuracy is managed
Ensuring good corporate governance is practiced in the business
Developing and implementing policies, procedures and controls which would ensure a good control environment in the business
Ensuring that asset records are kept up to date through physical verification of assets and the timely capitalization of fixed assets
Control capital expenditure and reporting
Effective and efficient working capital management (stock, debtors and creditors)
Preparation, analysis, interpretation and timely reporting of monthly results
Preparation of annual financial statements in accordance with International Financial Reporting Standards
Preparing and reporting on the annual capital and operating budget including sales, overhead, production and distribution budget
Minimum Requirements:
Full ACCA/Bachelor of Accountancy.
At least 5 years' experience in a similar position.
Strong computer skills, business acumen and a sound knowledge of accounting systems
Team Player
Must be a member of The Zambia Institute Chartered Accountants.
2. AUTO MECHANIC
Key Responsibilities
Conducting regular or scheduled maintenance on vehicles, and other machinery as may be required
Examining, or performing vehicle assessments on motor bikes, and other machines and advise what is required to done.
Maintaining work logs, repairs, and maintenance records
Monitoring inventory and order new parts when necessary
Giving advice on required equipment and tools for the workshop to provide the expected services.
Designing a plan of action for all maintenance tasks
Preparing monthly and, or other workshop activity reports
Any other work that may be assigned by the superiors.
Minimum Requirements
Grade 12 School Certificate or equivalent qualification
Craft Certificate or Diploma in Auto Mechanics or any other related field, preferably from a Vocational or Trade school
A minimum of 2 years' experience in a similar role
Hardworking, Reliable and Trustworthy
Ability to use a variety of hand tools
3. PROJECT OFFICER
Job purpose:
The project Officer is expected to do the following:
To provide overall engineering supervisory support to Essential Commodity Limited for implementation of works and services related to the renovation/ Construction.
Responsibilities
Assist in procurement of renovation/ construction materials for the projects.
Supervise the works and provide guidance to contractors concerning project activities.
Prepare and submit the project status report, progress report and other reporting requirements to management.
Ensure that the projects is completed within a stipulated period
Attend to other technical and supervisory activities as may be requested by management.
Qualification Requirement:
Minimum of diploma in construction management/ civil engineering or equivalent with at least 3 years work experience in a related field:
Registered with engineering institution of Zambia (EIZ) or equivalent.
Good interpersonal and communication skills.
4. SHOP FOREMAN
Responsibilities:
To manage machine shop
To manufacture spares for the plant
Able to operate lather Machine, milling (gear Cutting) to accurate standard.
Qualification Requirement:
Grade 12 Certificate
Craft Certificate
At least 3 years work experience in a related field
Hardworking, Reliable and Trustworthy
Ability to use a variety of hand tools
Interested candidates are requested to submit their applications letter and detailed CV to [email protected] not later than 16th February 2021. Please indicating the position applied for in the subject line and note that only shortlisted candidates will be contacted.