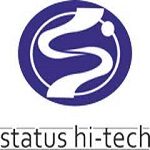 Status Hi-Tech (Z) Limited
Status Hi-Tech is Zambia's premier supplier of Personal Protective Equipment (PPE) and Fire Fighting Equipment (FFE). The Company is headquartered in Chingola town, Copperbelt Province of Zambia.
Status Hi-Tech (Z) Limited is looking for two mature, proactive and result oriented Zambians to fill the positions of Sales Representative to be based in Lusaka and IT officer to be based in Chingola.
1.  SALES REPRESENTATIVE – LUSAKA
Main Job Purpose
Identify opportunities & develop new markets
To promote and market products and services of the company
Spearhead the sales efforts
Develop and maintain a customer database
Minimum Qualifications
Diploma/Certificate in Sales and Marketing or Business Administration
3 years' experience in a big organization with a track record of improved sales
Worked for a cleaning company will be an added advantage
Excellent interpersonal communication skills, both verbal and written
Motivated, Sales-driven, results-driven, and target-driven attitude with persuasion and negotiation skills
Ability to meet and/or exceed monthly and quarterly sales quotas
Must have a driving license
2.  IT OFFICER – CHINGOLA
Main Job Purpose
Analyze the requirements of the company and organize the IT resources by choosing the most suitable software and hardware
Ensure that all IT requirements of a company are fulfilled
Provide troubleshooting solutions
Ensure the smooth functioning of all IT infrastructure such as servers and network connections
Ensure security of the physical and virtual components of Information Technology such as security of the server rooms and installing virus protections and firewalls
Organizing data, storing them securely and creating backups
Minimum Qualifications
Diploma/Degree in IT
Excellent graphic designing skills
Excellent observation and analytical skills
Sound technical knowledge about IT, security of systems and latest developments in the field
Strong problem solving skills
If you meet the above requirements, send your CV and qualifications to [email protected] clearly stating the positioned applied for in the subject line. Please NOTE that only shortlisted candidates will be contacted.
Find Zambia Jobs – The best job board for Jobs in Zambia