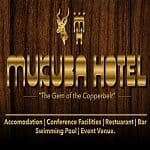 Mukuba Hotel
Mukuba Hotel is located 10 minutes away from the Central Business District of Ndola and is built on a six-hectare (6Ha) plot with a serene environment. The Hotel is currently undergoing rehabilitation and rebranding and is looking for suitably qualified and energetic individuals to be part of the hotel's new and exciting journey.
The following are the vacant positions (#25) based in Ndola:
1. Operations Manager x1
2. Sales and Marketing Manager x1
3. Finance Manager x1
4. Front Office Coordinator x1
5. Housekeeping Coordinator x1
6. Food & Beverage Coordinator x1
7. Human Resource and Administration Coordinator x1
8. Executive Chef x1
9. Senior Finance Officer x1
10. Senior Procurement Officer x1
11. Front Office Executive x2
12. Food & Beverage Executive x2
13. Sales & Marketing Officer x1
14. Human Resource & Administration Officer x1
15. ICT Officer x1
16. Stores Officer x1
17. Receptionist x3
18. Sous Chef x2
19. Assistant Finance Officer x1
20. Cook x4
21. Bartender x2
22. Waiter x4
23. Driver x1
24. Handyman x1
25. Housekeeping Attendant x6
How to apply
Interested and suitably qualified candidates should send their online application letter, updated curriculum vitae, copies of academic and professional qualifications and a copy of their national registration card by following the step-by-step procedure provided via the apply button below. The full job descriptions for each role can be found on the same link.
Application Letters should be addressed to:
The General Manager
Mukuba Hotel Limited
P.O. Box 72126
NDOLA
Closing date for submission of applications is Friday 29th April 2022. No Hard copy applications will be allowed. Only shortlisted candidates will be communicated to.
Mukuba Hotel is an equal opportunity employer.