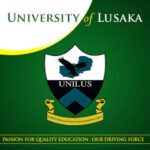 University of Lusaka
Passion for Quality Education, Our Driving Force
Multiple Positions
The University of Lusaka is inviting applications from suitably qualified candidates who are highly motivated and passionate about making a mark in the education sector to lecture in the following fields on a Full-Time basis in the School of Education, Social Sciences and Technology;
1. Current Issues in Development
2. Nutrition and Food Security
3. Introduction to Development
4. Governance and Development
5. Aid, Foreign Investment and Development
Qualifications:
To be considered for the above-mentioned course, one should have the following qualifications:
Bachelor of Arts in Development Studies.
Master of Arts in Development Studies, Masters in International Development or it's equivalent.
Ph.D. in the relevant field will be an added advantage.
A Postgraduate Diploma in Teaching/Lecturing methodology
At least five (5) years experience of lecturing at the tertiary level.
Five (5) years industrial experience in a position which deals highly in business communication.
Summary of Job Responsibilities:
Develop as well as improve course outlines and teaching materials for the assigned courses.
Supervise and assess both postgraduate and undergraduate students' research work and should be able to teach the assigned courses
Prepare lesson plans at the start of each semester for the assigned courses.
Key Qualities and skills:
Self-motivated and resourceful with strong intellectual ability
Ability to research and create new knowledge
Should be a goal-getter and a team player
Must be able to work with minimum supervision
Must be articulate and have strong interpersonal skills
High level of planning and organizing skills
Good computer skills
Passionate about lecturing and research
Salary Package:
An attractive and competitive package will be offered commensurate with one's qualification and experience.
The University will only consider candidates that will show that they have a strong industrial background, which will help them impart theoretical and practical skills to their students.
Application Guidelines
Interested candidates should send their application letters together with copies of their educational & professional certificates, and Curriculum Vitae with at least three traceable referees to the undersigned, on or before 9th April 2021.
The Registrar-Administration
University of Lusaka
Plot 37413
Off Alick Nkhata Road, Mass Media
P O Box 36711, Lusaka Zambia
"Passion for Quality Education, Our Driving Force"