Full Time
Applications have closed.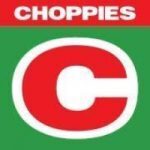 WE ARE
CHOPPIES
Great value for your money!
HIRING!
JOIN OUR TEAM
GENERAL WORKERS
Reporting to: The Branch Manager
Purpose
Choppies Zambia is offering a great opportunity for you to join us in a enterpising role in retail as part of our general staff at the soon to be opened Choppies Super-store Mansa.
Positions on offer:
BAKERY ASSISTANTS
BUTCHERY ASSISTANTS
TAKE AWAY ASSISTANTS
FRUIT AND VEG ASSISTANTS
TILL OPERATORS SHELF PACKERS
Education/Experience Preferred
Minimum Grade 12 certificate
Valid Green National Registration Card
No criminal record
Willingness to relocate/travel
Certifcate or Diploma in a relevant retail, business or hospitality field will be an advantage
Choppies is an equal opportunities employer.
Requirements
Police Clearance
Send Curriculum Vitae and Cover Letter via email only not later than 18th November, 2022 at this stage to: Email: [email protected]
NO CHARGE
PLEASE NOTE THAT APPLICATIONS ARE FREE. ANY DEMAND FOR PAYMENT SHOULD BE REPORTED TO THE NEAREST POLICE STATION