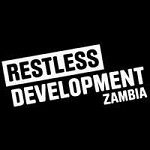 Website Restless Development Zambia
Job Title: Monitoring and Learning Intern
Salary: ZMW 2,850 Monthly Gross Allowance
About Restless Development.
We know young people have the power to solve the challenges we face in our world, but they are being side-lined. We are the agency that works with young people so they can lead in solving those challenges. Whether that means supporting communities to end child marriage or prevent HIV, we work with young people to change their lives and the lives of people in their communities. Our programmes are genuinely life-changing, but we can't do any of this without talented, creative individuals at every level of our organisation.
About the Role.
Restless Development seeks to recruit a dynamic, inspired and innovative young Zambian to fill the role of Monitoring and Leaning Intern. The Intern will provide support to the Programme Quality and Monitoring and Learning unit to be able to deliver organizational performance evidence through continuous monitoring, evaluation, learning and reporting on programme and project performance beyond reach to actual results achieved. The successful candidate will have strong organizational, Data management and IT skills.
If you are a young, dynamic, inspired and innovative individual with an academic background in monitoring, evaluation and learning we encourage you to apply for the role of Monitoring and Learning Intern. The role will be based in Kabwe, Zambia.
About You.
Essential skills and experience
Possess excellent communication skills
Coordination, judgment and decision making
Organization
Time management
Fluent written and spoken English
Belief in the values of Restless Development and ability to uphold them personally
A strong personal commitment to the values. Code of conduct and methods of Restless Development (see website)
Desirable skills & experience
Highly conversant in the use of Microsoft Office packages including MS Word, MS Excel and MS PowerPoint.
Tertiary education, with a bias towards monitoring and evaluation
Fluency in written English.
Ability to analyze, summarize and synthesize learning and evidence and produce high quality written outputs suitable for management use.
Ability to work within the deadlines.
Commitment to Restless Development values and code of conduct.
The Individual must be results orientated, highly self-motivated and have demonstrated analytical skills and ability to communicate effectively.  The successful candidate will thrive in a multicultural environment as part of a rapidly growing and developing organisation and be personally committed to Restless Development's mission and values.
A high level of motivation and ability to work independently as well as part of a team.
Team and Relationship builder
Educational Background
Minimum:  Tertiary education qualification, with a bias towards monitoring and evaluation.
How to Apply.
Please send a completed application form to [email protected] by 20th February 2022 indicating subject line as "APPLICATION_YOUR NAME_M&L INTERN" e.g. APPLICATION_JANE DOE_ M&L INTERN.
Please note that we do not accept CVs, resumes or covering letters.
Click Here to download  Application Form
Click Here to download  Job Description
First round interviews are scheduled to take place on a date to be advised.