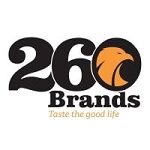 Website 260 Brands (Seba Foods Zambia Ltd.)
The Modern Trade Sales Intern will report directly to the Country Sales Manager and will be responsible for strengthening current client relationships, building new relations and closing sales deals for all 260 Brands' product with clients originating from Modern Trade.
Key responsibilities
Market and sell company products with other modern trade customers (i.e. mini-marts, etc.) in the designated areas, identifying new sales lead and growing the business. Follow up with clients on orders when necessary. Ensure targets set by management are met at all times and without fail.
Receive orders on the material to be delivered, and collect information on customers such as names, addresses, telephone numbers, and delivery instructions. Ensure all orders received from customers and fulfilled on time.
Nurture current client relationships and maintain contact with all clients in the area and ensure a high level of client satisfaction and retention
Resolve client complaints/problems to ensure client retention.
Ensure all products are available and visible on the market.
Participate in all sales activities required by management .i.e. sampling activities promotions, and use of information technology to carry out sales.
To carry out duties related to sales such as placement and handling out of the point of sale materials (POSM) as required by management.
Provide market intelligence, pricing and all competitor information that may be needed by the organization.
To provide daily market reports and other reports management may require.
Prepare daily Sales Reports, Sales Reconciliations and sales analysis
To maintain an updated marketing information database.
To attend sales meetings as and when required by management and participate in such meetings with reports based on market coverage.
Key Qualifications & Requirements
Minimum of 1-2 years in roles, preferably in the FMCG (Fast Moving Consumer Goods) industry
Education Level: Grade 12 certificates, Certificates/Diploma
Qualifications: Sales and Marketing
Good Command in English Language, Nyanja and Bemba
Strong Communications and Negotiation
Abilities: proven ability to study Market Trends and increase Market Share will be an added advantage
Personality: Self-motivated, Aggressive in Sales and Marketing activities
MUST HAVE A MOTO BIKE LICENCE – CLASS "A"
ICT literacy
For all interested candidates, please email a cover letter, resume, copy of drivers Class A license as well as any other relevant supporting documents to [email protected].