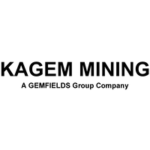 Kagem Mining Limited, based in Lufwanyama, is the world's single largest emerald producer. It covers an area of approximately 41 square kilometers and is in the central part of the Ndola Rural Emerald Restricted Area ("NRERA"), in the Copperbelt Province of Zambia. Kagem Mining prides itself on industry-leading health and safety standards, innovative approaches to engineering and cutting-edge management of unique geology.
Since 2008, Kagem is 75% owned by Gemfields, a world-leading supplier of responsibly sourced colored gemstones, in a model partnership with the Zambian government, through the Industrial Development Center (IDC). Kagem aims to emulate the values of Gemfields and operate in a way that contributes positively to the national economy, while taking a leading role in modernizing the colored gemstone sector and building sustainable livelihoods for the communities around the mine. Kagem believes that colored gemstones should be mined and marketed by championing three key values – legitimacy, transparency and integrity.
Position: Mechanical Engineer (x1)
Reports to: Manager – Engineering
Job Purpose: To coordinate the works of light and heavy duty, electrical and civil sections in order to effectively meet daily service delivery needs of mining, administration and the camp while applying centralised planning.
Principle Accountabilities
Implement maintenance standards as per OEM recommendation. Ensure application of National and International Engineering standards/practices.
Enforce the company's health and Safety Policy. Responsibility to ensure all the statutory requirements are strictly followed as per standard norms at Engineering department.
Ensure maximum availability/reliability of the equipment through 100% PMI compliance for effective and continuous mining operations. Track the MTTR/MTBF/CBM and take necessary corrective action to plan and monitor the same.
Ensure daily equipment quality check / inspection and take necessary corrective action for better reliability of equipment.
Lead the team and ensure men, material and machinery are used on effectively. Develop and implement SOP, SMP and Checklist documents etc.
Advance planning for PMI due on and communicates equipment scheduled dates with end user to timely deliver the equipment for service. Ensure equipment being operated is in proper condition.
Circulate daily/weekly PMI compliances to end users.
Ensure all the equipment's down times are booked properly with valid reasons.
Plan and execute the daily work with staff.
Ensure continuous operation of equipment and vehicles. Reduce the number of breakdown while in operation. Increase the time operation between failures by implementing IN/OUT inspection.
Fix the repair time for all jobs and execute the repair to deliver the machines on time.
Prepare budget proposal according to the condition / aging of equipment / assets and maintenance infrastructure requirements.
Keep updated maintenance reports on equipment's (HEMM/LMV) and present to Head Engineering on weekly basis with corrective action plan.
Manage the Maintenance crew / OEM to ensure frequent fleet inspection and initiate corrective action to rectify defects/observations while practicing preventive maintenance on fleet to achieve zero breakdowns.
Ensure the maintenance cost is within the budgeted amount and sensitize all maintenance front line through weekly supervisors presentation.
Ensure 100% safety of men, material and machines and retain a clean work area.
Ensure the safe system at workplace and develop quality management system.
Carryout preventive scheduled and predictive maintenance for all equipment and vehicles.
Manage the performance of employees for effective operations.
Assist in training employees to update their skills.
Execute any other duties assigned by Head-Engineering.
Qualifications / Experience & Skills
Full Grade 12 certificate.
Bachelor's degree in Mechanical / Automobile Engineering with min 5 years' experience or Diploma in Mechanical Automobile or Engineering with min 8 years' experience, with preferably 2 years in the mining industry.
Experience in fleet maintenance software and good computer skills.
Paid up member of EIZ.
Excellent analytical and evaluation skills.
Good command of both oral and written communication.
The company provides single status accommodation at the mine site.
Send your applications (Covering Letter and CV only) to The Head-Human Resources by mail to; [email protected]. Certificates will only be required at the interview stage. Only short-listed candidates will be contacted.
Closing date: 26th March 2021
Kagem Mining Ltd is an equal opportunities employer and encourages all eligible applicants to apply without any consideration to sex, cultural consideration, disability or creed. We do not charge or ask for money from candidates applying for jobs during any stage of the recruitment process, if you are asked for money by anybody, please do not proceed an report such individuals to the police immediately.