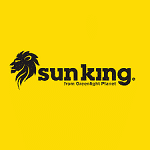 Greenlight Planet
Marketing Associate
Greenlight Planet is a multinational, for-profit business that designs, distributes, and finances solar-powered home energy products, with an underserved population in mind: the 1.3 billion global consumers for whom the old-fashioned electrical grid is either unavailable or too expensive.
Over a decade in business, the company is now a leading global brand in emerging markets across Asia and Sub-Saharan Africa.  Greenlight's Sun King™ products provide modern light and energy to 44 million people in more than 65 countries and have sold over 13 million products worldwide.
From the company's wide range of trusted Sun King™ solar lamps and home energy systems, to its innovative distribution partnerships, to its EasyBuy™ pay-as-you-go consumer financing model, Greenlight Planet continuously strives to meet the evolving needs of the off-grid market.
Greenlight stays in touch with underserved consumers' needs in part by operating its own direct-to-consumer sales network, including thousands of trusted sales agents (called as "Sun King Energy Officers") in local communities across local communities. For Sun King Energy Officers, this is not only a good source of income and employment but also, they become an important member of their community, bringing light and catering to local energy needs within their communities.
Today, with over 1300 full-time employees in 11 countries, we remain continuously impressed at how each new team member contributes unique and innovative solutions to the global off-grid challenge, from new product designs to innovative sales and distribution strategies, to setting up better collection mechanisms, to better training strategies, to more efficient logistical and after-sales service systems.  We listen closely to each other to improve our products, our service, and ultimately, the lives of underserved consumers.
Job Location: Zambia
Reporting Manager: Marketing Manager – ESA
The Role:
Greenlight Planet is looking for a Marketing Associate who will have a leading role in planning and execution of Brand activation activities for the entire life cycle of all Sun King products and services.
Key responsibilities for the role include:
Trade Promotions
Development of promotional plans generated from trade opportunity insights and competition activity.
Work closely with Regional Business Managers, market research and brand managers in order to align trade programs with objectives and characteristics of customer segments.
Liaise with regional and area business manager to plan for area promotions.
Manage agencies in implementation and evaluation of promotions.
Support brand team in the activity planning process, clarifying trade programs objectives, activities and schedule.
Assist brand managers in the development of POS materials
Trade Visibility 
Work closely with Procurement team to procure branding materials, POS, Merchandise and other resources required for the promotions.
Management of all regional local council requirements relative to campaign
Carry out weekly audits as per market itineraries to evaluate execution as per standard.
Manage appointed agencies & training of merchandisers on picture of success.
Sun King store branding 
Ensure store location is at a vantage point and with-in greenlight planet standards.
Supervise and coordinate with supplier to ensure timely execution of Store branding as per signed off artwork.
Agency and Supplier management
Develop and manage close relationships with agencies and suppliers.
Drive cost productivity in procurement.
The ideal candidate has:
A degree in a business-related field.
1- 2 years' hands on experience in a fast-paced sales or Marketing related environment.
Excellent team player.
Self-motivated, self-starter who is willing to take initiative, ownership & accountability.
Ability to develop external partnerships and form strategic alliances.
Attention to detail with excellent interpersonal and communications skills.
Highly results and performance oriented.
Excellent negotiation/influencing and presentation skills.
We are looking for someone who is driven, passionate and excited about the opportunity to bring honest, affordable, energy to homes in Africa and Asia.  If this sounds like you, we would love to hear from you.
Greenlight Planet offers a competitive salary, a fun, supportive work environment and opportunities for continued professional growth within a fast-growing global enterprise.
Greenlight Planet believes in equal opportunity for all people, everywhere. It is the reason we exist! So, regardless of your race, colour, religion, sex, marital status, sexual orientation, national origin, HIV/Aids status, disability or any other protected characteristic as established by law, we will accept your application and make a decision based on your suitability for the position.
Find Zambia Jobs – The best job board for Jobs in Zambia