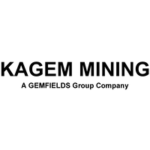 Kagem Mining Limited, based in Lufwanyama, is the world's single largest emerald producer. It covers an area of approximately 41 square kilometers and is in the central part of the Ndola Rural Emerald Restricted Area ("NRERA"), in the Copperbelt Province of Zambia. Kagem Mining prides itself on industry-leading health and safety standards, innovative approaches to engineering and cutting-edge management of unique geology.
Since 2008, Kagem is 75% owned by Gemfields, a world-leading supplier of responsibly sourced colored gemstones, in a model partnership with the Zambian government, through the Industrial Development Center (IDC). Kagem aims to emulate the values of Gemfields and operate in a way that contributes positively to the national economy, while taking a leading role in modernizing the colored gemstone sector and building sustainable livelihoods for the communities around the mine. Kagem believes that colored gemstones should be mined and marketed by championing three key values – legitimacy, transparency and integrity.
Position: Manager SHEQ (x1)
Reports to: Head Mining
Job Purpose: Responsible for the design, implementation, communication, and coordination of
all environmental, health, and safety programs for the Company.
Principle Accountabilities
Designing and implementing environmental, health and safety policies and practices.
Ensuring effective implementation of the Company's Environmental
Health & Safety Management Systems.
Ensuring compliance with Zambian environmental, health and safety legislation.
Facilitating the auditing, analysing and collating environmental, health and safety performance data and reporting information to management and regulatory bodies.
Devise, supervise, and coordinate training programs or media which will increase proficiency in safe practices and promote HSE consciousness.
Preparation of SHEQ budget proposals.
Provide regular written reports, as well as other production-related results and updates to the Senior Management Team.
Liaising with regulatory bodies such as ZEMA and MSD on matters of Environment, Health and Safety.
Investigation of accidents/incidents to identify causes and devise plans and strategies to prevent recurrence.
Developing and maintaining programs, such as noise surveys, continuous atmosphere monitoring, ventilation surveys and drinking water monitoring.
Investigating health-related complaints and inspecting facilities throughout the Mine to ensure compliance with public health and other health and safety legislation and regulations.
Facilitating indoor residual spraying and general campsite fumigation.
Being the figurehead for risk management across all areas of operation for the entire business and communicating findings with the Risk function (London Office).
Review internal HSE policies and practices to ensure they are current and appropriate; conduct hazard and risk assessments and change existing or develop new recommendations from these assessments.
Qualifications & Experience
Full Grade 12 certificate.
Degree in Environmental Engineering / Chemical Engineering/Occupational Health and Safety/ or related discipline.
Five (5) years of direct experience in Environmental Health & Safety discipline, three (3) of which should be at senior level.
Paid up member of the Engineering Institution of Zambia.
Excellent analytical and evaluation skills.
Good command of both oral and written communication.
Possession of good leadership skills.
Excellent knowledge of the current mining regulations.
The company provides single status accommodation at the mine site.
Send your applications (Covering Letter and CV only) to The Head-Human Resources by mail to; [email protected] Certificates will only be required at the interview stage.
Only short-listed candidates will be contacted.
Closing date: 26th March 2021
Kagem Mining Ltd is an equal opportunities employer and encourages all eligible applicants to apply without any consideration to sex, cultural consideration, disability or creed. We do not charge or ask for money from candidates applying for jobs during any stage of the recruitment process, if you are asked for money by anybody, please do not proceed and report such individuals to the police immediately.