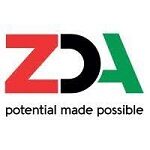 Zambia Development Agency
The Zambia Development Agency (ZDA), established under section 4 of the ZDA Act Number 11 of 2006 is an organization responsible for fostering economic growth and development by promoting trade and investment in Zambia. The Agency is seeking highly qualified and self-motivated individuals to fill the following vacancies:
2.MANAGER ENTERPRISE DEVELOPMENT (ZDA3)
Reporting to the Director Enterprise Development, the job holder will manage the development, implementation and monitoring of strategies and programs to stimulate the development of local enterprises in Zambia and coordinate operations of regional offices.
Duties
Manage the preparation of annual work plans and budgets for the Department and facilitates smooth execution of the activities by officers;
Manage the design and implementation of strategies to support the growth of local enterprises; • Manage the provision of product development and enterprise development advisory services to the local enterprises;
Manage the development of ZDA interventions to support Innovation and Technological Capacity of local enterprises;
Manage the development and liaison of programmes and mechanisms between ZDA and other institutions that aim quality assurance and standards of local products;
Manage the design and implementation of programmes to increase market access for local enterprises;
Manage the development of an up-to-date database of facilities and sources of finance, technology, raw materials, machinery, equipment and supplies with a view to promoting accessibility by local enterprises;
Manage the promotion of linkages, liaisons and dialogues with relevant stakeholders involved in the promotion and development of local enterprises;
Manage the design and implementation of programmes to increase the access of local enterprises to Business Development Services;
Manage the production and dissemination of information on business opportunities available to local enterprises;
Manage and facilitate research and product development amongst local business firms in liaison with established R&D institutions;
Analyse and consolidate information provided by regional offices on local enterprises;
Manage the preparation and submission of periodic and adhoc reports of the department's activities;
Supervise and review the performance of subordinates to ensure effective execution of work plans and related activities in key result areas; and
Perform any other duties as assigned by the supervisor from time to time.
Qualifications / Experience/ Skills
Degree in Economics, Business Administration,
Post graduate qualification is an added advantage
Six (6) years' work experience, three of which should have been at senior level
Excellent planning and facilitation skills
Demonstrate experience in report writing
Demonstrate experience in research skills
Excellent interpersonal skills
APPLICATION METHOD
All applications must be clearly marked and accompanied by detailed curriculum vitae, copies of qualifications and provide at least three referees, and sent to:
The Acting Director Finance and Administration
Zambia Development Agency
Privatisation House Nasser Road
P.O. Box 30819
LUSAKA
Or
Email: [email protected]
The closing date for receipt of applications is 11th April, 2022.
THE AGENCY IS AN EQUAL OPPORTUNITY EMPLOYER