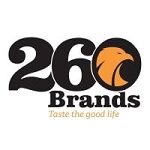 Website 260 Brands (Seba Foods Zambia Ltd.)
Reporting to the Logistic Manager, the Logistics intern will be trained on various aspects of distribution and statutory requirements for the Logistics department. Furthermore, he/she will support the logistics manager by planning, implementing, and evaluating progress achieved for the purposes set out.
Key responsibilities
Coordinate with the sales team on maintenance of the customer database.
Ensure that the routes are enforced and as per plans.
Validate daily sales record route wise against weekly mileage covered with the cost of fuel used
Ensure smooth coordination between the Area Sales Reps and Vans/Tricycles' sales personnel.
Ensure that orders received are fulfilled timely (OTIF – On-time and In Full)
Assist to plan for daily order delivery
Coordinate any fleet breakdowns as well as accidents.
Ensure that all the motor vehicles are clean and neat.
Ensure that all Motor vehicles are roadworthy (valid road tax, fitness and insurance)
Enforce all our motor tricycles/ vehicles are out of the premises by 07 hours.
Key Qualifications & Requirements
Diploma or Degree in Logistics Management, Supply Chain, Business Administration or related field
Experience not required but a plus
Valid driver's license (motorbike is a plus)
Good written and oral communication skills;
Excel computer skills (Microsoft Excel and Word; Google Maps etc);
Good interpersonal skills;
Good customer relations skills;
Ability to work under pressure and to tight deadlines;
Good organisational and time management skills;
Excellent interpersonal skills;
Ability to take initiative;
Attention to detail with an eye for analysis
Flexibility and adaptable to juggle a range of different tasks and to work extra hours to meet deadlines;
Discretion and an understanding of confidentiality issues.
For all interested candidates, please email a cover letter, resume, copy of drivers Class A license as well as any other relevant supporting documents to [email protected].