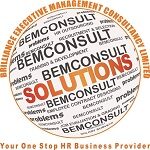 Website Brilliance Executive Management Consultancy
Description:
Job Purpose
The Legal Officer will closely work with the Company Secretary & Legal Counsel to ensure that the Bank materially complies with all legal, regulatory and procedural requirements in the effective Management of Legal Risk across the enterprise.
Summary of Key Responsibilities;
Be the Bank's chief draughts person and advise the Bank on the legality or lack thereof of bespoke agreements.
Prepare the appropriate legal documents for trial or court proceedings.
Evaluate new business partnerships with vendors and subcontractors.
In the absence of Company Secretary & Legal Counsel, represent the company in legal proceedings.
With the Company Secretary & Legal Counsel guide management on regulatory and compliance issues to ensure compliance with legal regulations.
Interfacing with the Bank's compliance function in ensuring effective implementation and operationalization of the Bank's Compliance Universe.
Interfacing with external lawyers to ensure effective management of debt recovery litigation.
Closely work with the Company Secretary & Legal Counsel to design and oversee the Banks policy and position on legal matters
Protect the Bank against legal risks and violations
Reviewing customer collateral packs on a regular basis to maintain an appropriate level of credit risk.
Recommending and making appropriate changes to workflows aimed at ensuring collateral is verified and perfected pre-disbursement and kept safe at all times.
Assistant the Company Secretary & Legal Counsel in making yearly adjustments to process controls to improve debt recoverability by ensuring good collateral quality.
Managing verification process of collateral to ensure documents held correspond with physical assets as described in the documents, including establishing relationships with surveyors and other verification agencies.
Correct execution of facility letters, guarantees, contracts, agreements, charges, debentures, chattels mortgages, discharges and all security documents and legal documents related to the Banks business.
Provide legal support in research on developments in law and maintenance of a legal Library for reference.
Drafting and reviewing Contracts, Agreements on new products, security documents and other relevant documents issued
Liaising with the Bank's legal service providers and ensuring external legal activities and engagements are coordinated effectively.
Vet and manage legal issues arising and provide legal opinions on the legal issues, risk and regulatory compliance.
Required Skills and Competencies
Outstanding communication skills
Excellent Interpersonal Skills
Attention to detail
Problem Solving Skills'
Personal motivation and drive exhibited through a commitment to hard work, continuous improvement and achievement of goals.
Ability to relate well with others and ability to learn.
Ability to negotiate, establish and administer contracts.
Ability to multitask, prioritize, and manage time efficiently.
Primary Areas of Accountability:
Qualifications and Experience
Bachelor of Laws Degree
Post Legal Commercial Qualifications an added advantage
Must have a minimum of 5 years of experience in the same or similar capacity in a Commercial Bank, Financial Institution or Telecoms Company
Should be an Advocate of the High Court and Supreme Court for Zambia with at least 3+ years at the bar.
Proven experience in litigation as well as commercial/conveyancing experience in drafting contracts, reviewing security documents, leases, preparing litigation files and attending court on preliminary matters.
Proficient with Microsoft Office Package (Word, Excel, Internet and Access.
Ability to analyse problems and strategize for better solutions.
Must be a member of LAZ

If you meet the minimum hiring requirements for the above position, please email your CV and Cover letter clearly stating your salary expectations to [email protected] and copy-in [email protected]

Note that, all communications will be kept in the strictest of confidence. If you do not receive communication within 21 days of the closing date of the advert, please consider your application unsuccessful.

DO NOT SEND CERTIFICATES AT THIS STAGE