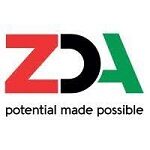 Zambia Development Agency
EMPLOYMENT OPPORTUNITIES
The Zambia Development Agency (ZDA), established under section 4 of the ZDA Act Number 11 of 2006 is an organization responsible for fostering economic growth and development by promoting trade and investment in Zambia. The Agency is seeking highly qualified and self-motivated individuals to fill the following vacancies:
7.LEGAL OFFICER (ZDA5)
Reporting to Manager – Legal, the job holder will generally be responsible for the provision of legal advice, counsel and efficient and effective legal advisory services to the ZDA Management and staff;
Duties
Assisting in interpreting key statutes such as the ZDA Act, Regulations and other pieces of key legislation, which have a bearing on carrying out the ZDA Mandate in order to ensure that the Agency acts within the law;
Coordinating with the Attorney General's Chambers on legal matters related to the functions of the Agency;
Representing and defending the interests of the Agency in all legal proceedings so as to prevent or minimise loss;
Identifying potential changes to the ZDA Act and managing the legal reform process and the introduction of new legislative measures aimed at improving the Zambian business environment;
Drafting and perusing legal documents, statutory instruments, cabinet memoranda, contracts and agreements, pleadings, affidavits, deeds, leases and diverse applications in order to safeguard the Agency's interests and ensure that they are efficiently and effectively executed;
Take part in negotiations in matters concerning the Agency that will ultimately be reduced into writing;
Assist in the provision of Board Secretarial Services for the Agency;
Managing the preparation of periodic and adhoc reports on cases and other legal matters that have a bearing on the Agency;
Perform any other duties as assigned by the supervisor from time to time;
Qualifications / Experience/ Skills
LLB Degree
Two (2) years post certification experience in legal practice
Advocate of the High Court of Zambia
Member of LAZ
Excellent analytical skills
Exceptional attention to detail
High level of integrity and confidentiality
Excellent interpersonal skills and communication skills Assertive and result oriented
APPLICATION METHOD
All applications must be clearly marked and accompanied by detailed curriculum vitae, copies of qualifications and provide at least three referees, and sent to:
The Acting Director Finance and Administration
Zambia Development Agency
Privatisation House Nasser Road
P.O. Box 30819
LUSAKA
Or
Email: [email protected]
The closing date for receipt of applications is 11th April, 2022.
THE AGENCY IS AN EQUAL OPPORTUNITY EMPLOYER