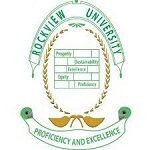 Rockview University is currently looking for a creative and self-motivating candidate to fill the position of Legal Counsel.
Qualifications
Bachelors of Law
A Master's Degree in Law will be an added advantage.
Affiliate to Law Association of Zambia (LAZ)
Advocate of High Court in Zambia (AHCZ)
Sound knowledge and skill in Media Law and Computer skills.
Age between of 30-40
Duties and Responsibilities
Advise and represent Rockview University in Court and before Government Agencies (Regulators)
Communicate with the university, the courts and other legal counsel when need arises
Conduct research and analysis of the university legal issues
Interpret laws, rulings and regulations and advise university on how to proceed
Present facts, orally and in writing, to the university to courts, government and other agencies and argue on behalf of the university
Prepare and file legal documents(e.g suits appeals, contract, deeds)
Give accurate and timely counsel to executives in variety of legal topics(labor law, partnership, international ventures, corporate finance
To undertake effectively the work plans for the section
To provide effectively legal advice in order to facilitate the operations of the university in accordance with the existing pieces of legislation
Specify internal governance policies and regularly monitor compliance
To take in board meeting and prepare minutes
To undertake any other duties assigned to the officer which are job related
Attributes
Ability to work with clients objectively without being personal
Ability to solve problems in an innovative manner
Good planning and implantation/execution of agreed strategies
Ability to handle confidential matters
Interested candidates who meet the minimum qualifications should submit application letters enclosing their curriculum vitae and certified copies of their certificate to,
The Human Resource office,
Rockview University main campus
P.O Box 31108,
Lusaka
or email: [email protected]
The closing date for receiving application is 30th April 2021.