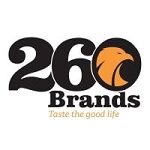 260 Brands (Seba Foods Zambia Ltd.)
The Learning and Development Coordinator shall report directly to the HR Manager and will support the Human Resources Manager with Training & Talent Development initiatives including, but not limited to: assessing training needs of staff, coordinating and implementing training sessions for company staff, implementing programs for internal behavioural change, developing succession plans and career development programs for aspiring management prospects, and setting up and implementing performance management systems to drive high performance.
Responsibilities
Recruitment of top talent for all Company Departments, utilizing advertising campaigns, school and university relationships, and website presence to promote employment opportunities
Partner with recruiters to assist and support recruiting activities, including posting job requisitions, screening resumes, phone screening for qualifications and Screening candidates in preliminary interviews for final interviews by Heads of Departments
Assist in onboarding documentation requirements for newly hired employees
Conduct new employee orientation by welcoming new staff member to 260 Brands, providing tours, writing welcome memos, assigning mentors, providing company swag, ensuring new staff's IT and computer needs are accommodated, ordering Employee IDs, etc.
Deliver new employee introduction training for all new staff by presenting on company vision, mission, history, core business activities, company values, brand guidelines, using the server and how to use Outlook
Support Human Resources Manager with implementation of an organizational culture that is positive, nurtures talent and helps staff feel a part of a successful, purpose driven business and to see impact they're having in through the work they do
Support Human Resources Manager with engagement, motivation and preservation of human capital, including dissemination of employee engagement surveys, coordinating team building events, etc.
Ensure he/she is the first point of contact for inquiries regarding talent development activities
Support training initiatives including, but not limited to: assessing training needs of staff, coordinating training events (venue arrangements, materials, catering, etc.) and delivering regular internal training on topics of areas of knowledge/expertise
Provide day to day support for talent processes including talent reviews, succession planning, career planning, and leadership and career development programs and workshops
Support departmental heads with creating, documenting and filing evaluation forms, conducting and analyzing regular performance evaluations of individual employees or groups of employees to measure their progress toward meeting goals and achieving objectives
Providing coaching and feedback to employees on how they can improve their performance
Qualifications
1. Degree in Human Resources or a related field
2. 3-5+ years' experience in progressively responsible human resource roles preferably in a manufacturing environment, including combined 2+ years of experience in Labor Relations and Employee Relations and 3+ years of experience in a supervisory role.
3. Broad knowledge and skills in Human Resources principles and practices including knowledge of Employment Code Act, staffing and recruitment practices, compensation & benefits, employee relations, policy development and implementation and supporting diversity.
4. Strong PC application skills including MS Office programs such as Word, Excel and PowerPoint
Member of ZIHRM.
For all interested candidates, please email a CV and relevant qualifications to [email protected] with "Learning and Development Coordinator" in the subject line . Please also fill the short 2-min survey at this link: https://www.surveymonkey.com/r/C5FPB3P