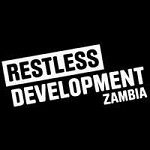 Website Restless Development Zambia
Salary: ZMW 292, 027 Basic Per Annum
About Restless Development.
We know young people have the power to solve the challenges we face in our world, but they are being sidelined. We are the agency that works with young people so they can lead in solving those challenges. Whether that means supporting communities to end child marriage or prevent HIV, we work with young people to change their lives and the lives of people in their communities. Our programmes are genuinely life-changing, but we can't do any of this without talented, creative individuals at every level of our organisation.
About the Role.
he International remit of this role focuses on building global capacity to respond to safeguarding issues and incidents, rolling out best practice, sharing learning across Hubs, delivering training and supporting working groups to respond to incidents and mitigate risks. You will act as the lead contact for safeguarding and security queries across the agency and will regularly review our global safeguarding policy and practices to ensure they are fit for purpose.
We want you to change the way safeguarding is viewed across our global agency, building on the progressive work we have already carried out. This role will ensure safeguarding and incident management is deeply embedded in the work we do internally, and externally in the communities we work alongside.
You will also be an intergal part of a new project in Zambia, which will focus on implementing a Sexual and Reproductive Health and Rights Project in Chadiza, Kasenengwa, and Mambwe in Eastern province. The Project Targets to put out of school adolescent girls' needs and rights at the centre of all project activities. This target group has been selected because they are consistently left out of traditional adolescent Sexual and Reproductive Health and Rights (ASRHR) programming, are difficult to reach, and often have the greatest need. Your involvement in this project will ensure Restless Development embeds a safeguarding culture throughout project delivery, building capacity to respond to incidents and ensuring the safety of staff, volunteers and community members is prioritised.
If you are a dynamic, inspired and innovative individual with a background  in safeguarding/security we encourage you to apply for the role of International Safeguarding Manager. The role will be based in Lusaka, Zambia leading on safeguarding and security across the Zambia Hub and Agency. The recruited candidate will take on 40% Zambia Hub responsibilities and 60% global/Agency wide responsibilities ensuring this is a varied and fulfilling role.
About You.
Essential skills and experience
Commitment to Restless Development's values and mission.
Relevant experience in supporting safeguarding in a similar position ideally in an International Development setting
Strong understanding of safeguarding and ability to apply/adapt this in different settings
Experience of writing, delivering and overseeing safeguarding training
Ability to review and develop policies and procedures to ensure best practice in this area is embedded.
The ability to be able to respond calmly and logically to challenging situations
Strong communicator who can influence and challenge colleagues to consider new ways of working.
Desirable skills & experience
Relevant academic qualification in safeguarding/security/ international development
Understanding of risk and how to respond and mitigate it in local and international settings.
Experience of volunteer management
Proven track record of working collaboratively with different teams on complex matters
How To Apply.
Please send a completed application form to [email protected] by 9th February 2022 indicating subject line as "APPLICATION_YOUR NAME_INTERNATIONAL SAFEGUARDING MANAGER" e.g. APPLICATION_JANE DOE_INTERNATIONAL SAFEGUARDING MANAGER.
Please note that we do not accept CVs, resumes or covering letters.
Click Here to download  Application Form
Click Here to download  Job Description
First round interviews are scheduled to take place during the week commencing 21st February 2022. Second round interviews will follow.