Full Time
Applications have closed.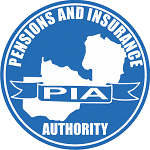 Pension and Insurance Authority (PIA)
PENSIONS AND INSURANCE AUTHORITY
JOB ADVERTISEMENT
The Pensions and Insurance Authority (PIA) is the regulatory and supervisory authority for the pensions and insurance industries in Zambia as provided for in the Pensions Scheme Regulations Act No.28 of 1996 (as amended) and the Insurance Act No. 38 of 2021 (as amended). The Authority supervises and regulates entities operating in the pensions and insurance market. These include, among others; insurance companies, reinsurance companies, insurance intermediaries, pension schemes, fund managers and fund administrators.
The Authority hereby invites applications from suitably qualified and experienced candidates to fill the following positions.
INSPECTOR – PRUDENTIAL SUPERVISION (PENSIONS) – TWO (2) Positions
Reporting to the Manager – Prudential Supervision (Pensions Supervision), the Inspector Prudential Supervision will be responsible for risk analysis, assessments and inspections of regulated pension schemes/funds and related entities in order to enhance compliance to the Pension Scheme Regulation Act and sound financial and business practices.
Specific Duties: –
Compiles lists of overdue statutory returns and advises the Manager accordingly.
Prepares pre-inspection and risk analysis reports for assigned regulated entities so that the risk profile and inspection plan can be agreed with supervisor.
Conducts prudential routine and targeted inspections of assigned regulated entities, collecting data and inspecting financial records and other data/information of the business to determine risks and their continued viability as well as ability to service clients adequately.
Drafts inspection reports that highlights whether or not inspected entities are adhering to legal provisions, regulations and set standards and develops recommendations to the Manager-Prudential Supervision for action where necessary.
Processes received applications for registration by ensuring that information and documentation are complete and that applicants meet the minimum registration requirement for the type of schemes set by the Authority in accordance with the provisions of the Pension Scheme Regulation Act before forwarding them to supervisor with recommendations.
Reviews inspection procedures so that they can be kept up-to-date with industry best practices and developments to ensure uniform treatment of supervised entities.
Requirements: –
Full Grade 12 certificate with credit or better in Mathematics and English.
Degree in either Accounting/Business Administration or full professional accountancy qualification such as ACCA/CIMA/ZICA.
Masters programme will be an added advantage.
3 years' relevant experience in audit or financial sector, preferably 2 years in a related industry.
Mode of Application
To apply, please email the cover letter, curriculum vitae, copies of Grade 12 certificate, degree and other professional qualifications as a single PDF file named First. Surname – Inspector.pdf to:   [email protected]
Alternatively, applications with copies of certificates and curriculum vitae can be sent to the address below.  
Human Resources and Administration Manager
Pension and Insurance Authority
Stand No. 4618
Lubwa road, Rhodespark
P/Bag 30x
Ridgeway
Lusaka.
The closing date for applications is Tuesday, 31st January, 2023 at 17:00 hours. Please note that only applicants selected for interviews will be contacted