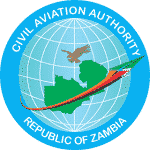 The Civil Aviation Authority (CAA), is a statutory body that was established by the Government of the Republic of Zambia under Section 3 of the Civil Aviation Authority Act No.7 of 2012.
The CAA is inviting applications from suitably qualified candidates to fill one (01) position of Inspector Personnel Licensing under the Directorate of Flight Safety Standards and reporting to the Senior Inspector Personnel Licensing
Job Purpose
To carry out the regulation of Personnel Licensing in order to facilitate compliance by all license holders.
Duties And Responsibilities
Ensuring that activities within Personnel Licensing are carried out in accordance with regulations, standards and approved policies and procedures.
Coordinating written examinations for flight crew members, aircraft maintenance staff, air traffic controllers, and ground operations personnel who want to apply for new classes, ratings, or authorizations to their licenses.
Coordinating practical tests as required for the different specialties and generating the necessary test reports;
Effectively monitoring service providers' safety management systems in order to minimize hazards and risks in their operations.
Participating in the effective implementation of performance management systems in order to enhance individual and organizational performance.
Coordinating the issuance, validation and conversion of all types of licences and ratings issued under the Zambia Civil Aviation Requirements.
Monitoring implementation of a system for designees and their oversight.
Ensuring the approval or acceptance of simulation training devices used for training within the scope of licensing.
Certification and surveillance of Flightcrew, ATC, AME and Cabin Crew training organizations. (ATOs).
Coordinating processes for any enforcement action required to ensure compliance by licence, certificate and authorization holders.
Minimum Qualifications And Experience
Full Form V /Grade 12 Certificate with minimum of five (5) "O" Levels with credits.
BA in Aviation or related Social Science would be an added advantage
Commercial Pilots Licence / Air Traffic Controllers Licence with three ratings
At least 3 years experience.
Government Safety Inspector PEL Certificate would be an added advantage.
Must be a Zambian citizen. 
Core Competencies
Ability to write Technical reports concisely in English and have good interpersonal skills
Able to communicate effectively in English
Computer literate
Interpersonal Skills
Integrity
Applicants who meet the above qualifications are encouraged to submit an application letter together with detailed Curriculum Vitae including three (3) traceable referees and day time telephone numbers. All applications should reach the undersigned not later than 30th April, 2021 
Apply to:
The Director – General
Civil Aviation Authority
Former Zambia Airways Technical Base Hanger 38/947
Kenneth Kaunda International Airport
P.O. Box 50137
Lusaka