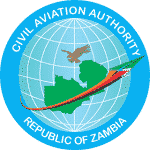 The Civil Aviation Authority (CAA), is a statutory body was established by the Government of the Republic of Zambia under Section 3 of the Civil Aviation Authority Act No.7 of 2012.
The CAA is inviting applications from suitably qualified candidates to fill one (01) position of Inspector Communications, Navigation and Surveillance under the Directorate of Air Navigation Services and reporting to the Senior Inspector Communications, Navigation and Surveillance.
Job Purpose
To supervise and undertake to develop the implementation and review of Communication, Navigation and Surveillance Systems, Standards and Procedures in order to ensure safe and compliant Systems are provided to aircraft operations in the Zambian Airspace.
Duties And Responsibilities
Undertake timely preparation of Work Plans for the Communications, Navigation and Surveillance (CNS) Unit in order to facilitate enforcement of regulatory programs and activities.
Ensure timely compliance of CNS Standards by the Air Navigation Service Provider (ANSP) with the Legislation and International Civil Aviation Organization (ICAO) Standards and Recommended Practices (SARPs).
Conduct Inspections, Audits and Surveillance activities on the ANSP's CNS System in order to ensure compliance with National Regulations and International Standards.
Certify the Air Navigation Services Facilities in order to ensure compliance with National Regulations and International Standards.
Conduct Licensing of Air Traffic Safety Electronics Personnel (ATSEP).
Undertake to study the incident reports concerning CNS systems and make recommendations on observations in order to prevent recurrence.
Undertake to study coordination issues and make recommendations on best options in order to avert incidents resulting from lack of coordination and system monitoring.
Participate in the implementation of the Quality Management System (QMS) in order to enhance quality organisational output and stakeholder confidence.
Participate in the implementation of Performance Management System (PMS) in order to enhance individual and organisational performance.
Undertake prudent utilisation of resources in order to facilitate attainment of set objectives.
Minimum Qualifications And Experience
Full Form V/Grade 12 School Certificate.
Degree in Electrical/Electronic Engineering or Telecommunications Engineering from a recognised University.
At least five (5) years minimum working experience.
Knowledge of Aeronautical Telecommunication Systems (CNS Systems)
Knowledge and understanding of Zambia Civil Aviation Requirements (ZCARs), ICAO Annex 10 and SARPs is a requirement.
Must be a member of the EIZ
Must be a Zambian citizen
Core Competencies
Leadership
Communication
Interpersonal Skills
Team Player
Decision Making
Analytical Skills
Integrity
Result Oriented
Applicants who meet the above qualifications are encouraged to submit an application letter together with detailed Curriculum Vitae including two (3) traceable referees and day time telephone numbers. All applications should reach the undersigned not later than 30th April 2021.
Apply to:
The Director – General
Civil Aviation Authority
Former Zambia Airways Technical Base Hanger 38/947
Kenneth Kaunda International Airport
P.O. Box 50137
Lusaka